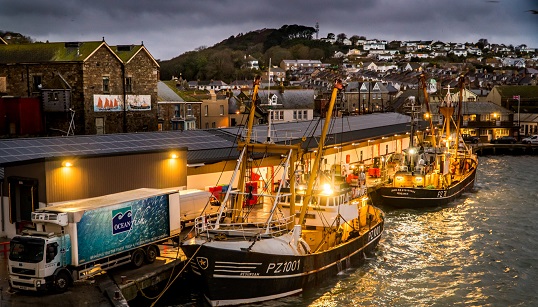 The Shipwrecked Mariners' Society has announced the winner of its eighth annual photography competition, which features exceptional images that capture the UK's enduring connection to the sea.
Laurence Hartwell carried away first prize with his evocative picture of trawlers landing their catch in Newlyn, Cornwall. He was awarded a £500 voucher for photographic equipment.
The national maritime charity, which provides support to former seafarers and their dependants, said that this year's field was more competitive than ever. Judges former Sunday Times picture editor Ray Wells, i newspaper picture editor Sophie Batterbury and Shipwrecked Mariners' Society chief executive Captain Justin Osmond were presented with more than 2,000 entries to choose from.
As well as the grand prize the judges also announced winners in four categories: Coastal Views, People & Recreation, Industry and Ships & Wrecks.
'We were blown away this year by the sheer number of entries for the competition and the outstanding quality of images. This year has been challenging for many, so it has been fantastic to see everyone come together and celebrate our coastline, our memories of the sea and those working there,' Captain Osmond said.
'Laurence Hartwell's winning image was almost poetic in the story it told. It symbolised the fishermen, logistics and transport workers who continue to work tirelessly through night and day for our benefit and especially in a year where our reliance on the maritime and fishing industries has been highlighted even further.'
The competition is a way to raise awareness of the work done by the Shipwrecked Mariners' Society to support seafarers and their dependents, so the charity took the opportunity to underline the impact of the Covid-19 crisis on seafarers and the extra £1m support it has made available to help them.
The full gallery of this year's winning images is available at www.shipwreckedmariners.org.uk/photography-competition-2020.
---
Tags