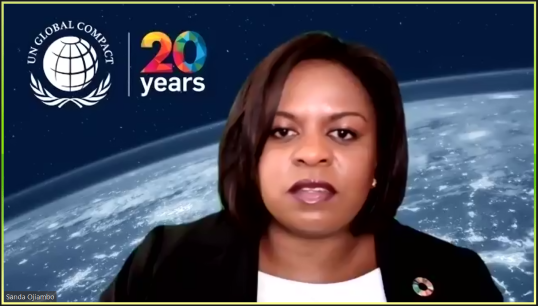 United Nations (UN) secretary-general António Guterres has called on governments around the world to designate seafarers and other marine personnel as key workers, so that those who are currently unable to travel due to Covid-19 restrictions can go home or reach their ships.
The remarks were delivered on behalf of Mr Guterres by United Nations Global Compact executive director Sanda Ojiambo at an online event to mark World Maritime Day, titled 'Covid-19 and Maritime Crew Changes: A humanitarian, safety, and economic crisis'. The International Chamber of Shipping (ICS) estimates that that 800,000 seafarers are currently affected.
'I remain very concerned about the growing humanitarian and safety crisis facing hundreds of thousands of these indispensable workers. Despite the unprecedented conditions brought about by the pandemic, seafarers have continued to tirelessly support the often-invisible global logistics chain,' Mr Guterres said.
'Physically and mentally exhausted, away from their families and loved ones, their time at sea has now been extended far beyond the standards stipulated in international conventions, with some tours of duty now stretching more than 17 months. Fatigued seafarers cannot operate indefinitely, and disruptions to international shipping would have devastating consequences.'
The secretary-general's remarks highlight the UN Global Compact's demand to treat seafarers as key workers, first made back in April.
The delegates emphasised the humanitarian and economic impacts of the crew change crisis and gave dire warnings about the consequences for the world if it is not resolved.
Speaking for the Global Compact, Ms Ojiambo said: 'I hope that all Global Compact participants and all other businesses will keep the pressure on governments to tackle this urgent issue, because ultimately only government can help us make this change. Since the outbreak of Covid-19 business industry associations trade unions and UN agencies have worked together to ensure the continued safe low trade. Now it's time for governments to come together and grant key worker status.'
ILO director-general Guy Ryder said: 'It could lead to the breakdown of global supply chains which depend so heavily on the maritime sector. And it would frankly be a denial of the strictures of international law, particularly those of the Maritime Labour Convention.'
IMO secretary general Kitack Lim said: 'Ship safety is a hanging in the balance, just as seafarers' lives are being made impossible. The safety of navigation is in peril. We need cooperation and commitment from all member states to recognise seafarers as key workers, exempting them from travel restriction and implementing the recommended framework of protocols for safe crew changes.'
'We must wake up to the fact that we are now close to an entirely avoidable breaking point because of this crisis, one that could ripple out into the economy,' Unilever chief supply chain officer Marc Engel added. 'Economic conditions are at the most stretched in recent memory, and even a temporary interruption in the global shipping system could push many companies, and many countries over the edge.'
French minister of the sea Annick Girardin said that port states had acted to resolve the crisis, but flag states would need to do more to scale up efforts. She also put forward concrete requests.
In each geographic area, secure ports should be identified where crew changes can be carried out
An amendment to the Maritime Labour Convention which requires flag states to declare to the ILO situations where the maximum duration of service onboard has been extended beyond 12 months
'The measure aims to make sure that the maximum duration of service be respected, except in cases of force majeure. These cases must be limited. We propose to confine them to situations where there is no air transport and borders are closed, as we've seen in recent months. This is an important first step,' Ms Girardin said.
---
Tags