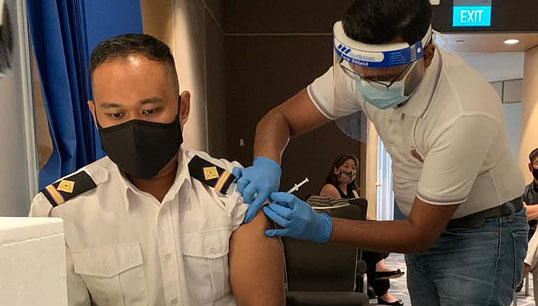 Singapore is offering Covid-19 vaccines to frontline maritime personnel, becoming one of the first countries to prioritise seafarers for the jab.
Seafarers who have their full course of vaccination will be subjected to fewer testing requirements according to the Maritime and Port Authority of Singapore (MPA).
More than 10,000 maritime workers are scheduled for vaccination by the end of January 2021 under the country's Sea – Air Vaccination Exercise, including port workers, harbour pilots, cargo officers, marine surveyors and marine superintendents who are required to work onboard ships.
Seafarers who are Singaporean nationals or long-term residents who would like to register for a priority vaccination should get in touch with the Singapore Maritime Officers' Union (SMOU), an affiliate of the Nautilus Federation, which has been appointed by the MPA as the contact point.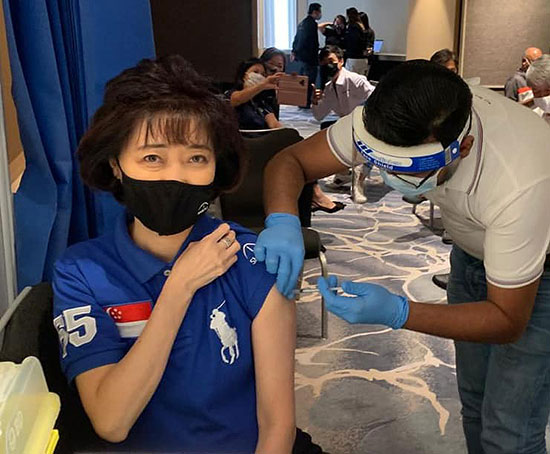 Ms Mary Liew, SMOU general secretary said: I am honoured to join our Maritime Tripartite leaders to lead by example in solidarity by receiving the vaccination alongside our Singaporean Seafarers.
'SMOU will continue to work with tripartite partners to prioritise vaccines for our key workers – including seafarers and maritime workers – to create a safe working environment, and to protect their families and the wider community. We look forward to working closely with the Nautilus Federation to call for similar actions for seafarers worldwide.'
Ms Quah Ley Hoon, chief executive of the MPA, said: 'We rely on our frontline maritime personnel for the transportation of what we need every day, including food, medical supplies, and consumer goods. We hope that the vaccination can give them peace of mind when they perform their work onboard ships. This will provide an additional layer of protection, and keep their family and the community safe. We strongly encourage them to come forward for early vaccination.'
The first maritime worker to be vaccinated was a marine harbour pilot working for the Port of Singapore Authority, Mr Loh Kah Wai, 55. He said: 'The vaccination keeps me safe and enables me to do my job with less worry. It's one more layer of protection, not just for me but for my fellow harbour pilots and my family.'
In December, Nautilus International, the UK Chamber of Shipping (UKCS) and the National Union of Rail, Maritime and Transport Workers (RMT) put joint pressure on the UK government to treat seafarers as a priority group for vaccination against Covid-19.
The UN General Assembly then followed the UK Government's lead and called on all governments to designate seafarers as key workers.
---
Tags