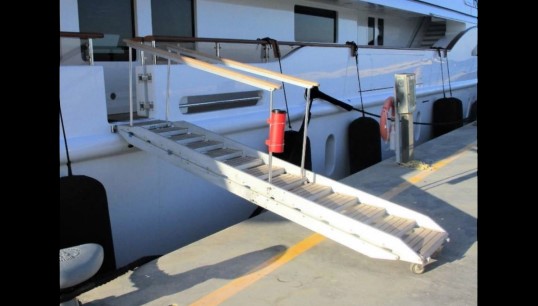 A major flag state has warned superyacht crew members and owners about the need to improve the safety of access to their vessels following several serious accidents.
Authorities in the Cayman Islands have issued a special safety flyer highlighting a failure to comply with rules that sought to address the hazards posed by the use of gangways, passerelles and accommodation ladders with 'open sides'.
The Maritime Authority of the Cayman Islands (MACI) says it has dealt with incidents in recent years in which people have lost their footing while boarding or leaving a yacht on a gangway or ladder lacking intermediate railings or other means to prevent someone falling. MACI points out that the Red Ensign Group's Yacht Code was amended in 2020 in an attempt to tackle the problem by requiring the use of side screens or handrails on both sides, with detailed specifications for intermediate rails or wires, distances between stanchions, and also covering the use of intermediate rails and toe boards.
Yachts built before the amendment entered into force were required to comply with the requirement no later than their first annual survey after that date.
However, MACI says that while the requirements came into effect in June 2021 it is aware that 'open-sided' means of access are still being used on some yachts and it has recently been notified of another accident occurring onboard a yacht with a gangway lacking intermediate handrails.
'A crew member was returning to the yacht when he lost his footing on the gangway,' it explains. 'The crew member fell through the sides of the gangway and landed heavily on the quay before falling into the water.
'Fortunately, the crew member was able to be retrieved from the swim platform of an adjacent yacht,' it adds. 'The crew member suffered back injuries and broken ribs. Due to the extent of the injuries received, the crew member was unable to continue his service on the yacht as it made its onward voyage.'
MACI says this incident 'could easily have resulted in much more serious consequences which could have included life-changing, or even fatal outcomes'.
The safety flyer urges masters and crew to evaluate all means of access to their yachts against the current REG Yacht Code requirements for stanchion distances and intermediate handrails.
'Any means of access not in compliance with current requirements should not be used until modified to comply with these requirements or replaced with a compliant means of access,' it warns.
MACI also stresses the need to ensure that all modifications to a means of access are formally accepted by the yacht's classification society or the Cayman Islands Shipping Registry.
---
Tags