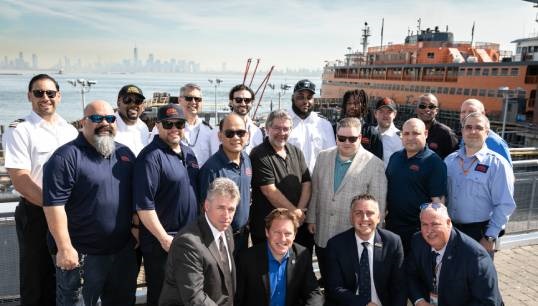 Officers and crew of two US Nautilus Federation affiliates have been recognised for heroism after safely evacuating a Staten Island ferry during an engine room fire.
Five people sustained minor injuries and 868 were evacuated from the vessel Sandy Ground after the fire started during the evening commute from Manhattan to Staten Island.
The blaze was contained by the crew by the time first responders arrived. They sealed off access to the engine room and injected CO2 to extinguish the flames.
Fire Department of New York deputy assistant chief Frank Leeb said: 'This is a long time of preparation and training. The crew acted as the crew was supposed to act.'
At a ceremony in April the entire crew was presented with proclamations from the New York State Senate, New York State Assembly, and New York City Council.
The deckhands and marine oilers aboard Staten Island ferries are members of the International Organization of Masters, Mates & Pilots (MM&P). The officers are members of the Marine Engineers' Beneficial Association.
MM&P Atlantic Maritime Group vice president Mike Riordan said: 'A fire that could have had a tragic outcome was safely extinguished in a shining example of what this crew is capable of.'
---
Tags