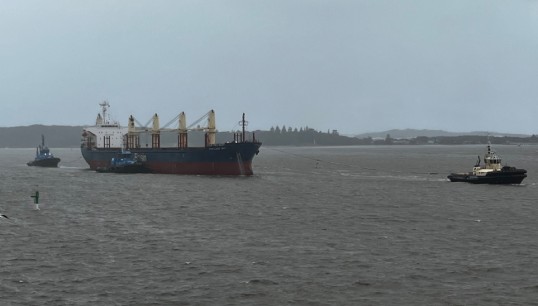 Tug crews in Sydney, Australia, have been hailed as heroes as they proceeded beyond port limits and into gale force winds and rough seas to assist bulk ship Portland Bay, which lost main engine power after departing Port Kembla on 3 July.
Australian tug engineers are represented by Nautilus Federation affiliates Australian Institute of Marine and Power Engineers (AIMPE) and tug masters by the Australian Maritime Officers Union (AMOU).
Australian Maritime Safety Authority Search & Rescue unit co-ordinated the emergency response. Early attempts to winch some of the crew off the ship via helicopter were abandoned because the ship was pitching and tossing severely.
Tug SL Diamantina from Port Botany was the first to respond, and within hours Port Jackson tugs SL Martinique and Svitzer's Bullara arrived at the scene. In dangerous conditions the three tugs were able to assist in preventing the ship from being smashed onto the rocks of the National Park south of Sydney.
The lives of the 21 crew on board and the environmental impact of 1,000 tonnes of fuel oil were major concerns.
New South Wales Premier Dominic Perrottet praised the 'heroic' efforts of tug boat crews who braved dangerous conditions to move the ship away from rocks. The Sydney Morning Herald also ran the story on its front page.
The ship was towed north where it anchored off Cronulla Beach so that if the worst did happen, the likelihood of the crew drowning or the ship breaking up would be minimised.
On 6 July Svitzer Glenrock towed the Portland Bay into Port Botany. AMSA detained the ship after it was secured in Port Botany to enable ship surveyors to carry out an inspection on the vessel and to ensure that repairs are carried out.
'There are relatively few skilled personnel around Australia who can carry out these emergency response operations. It is not uncommon to break towlines in such conditions,' AIMPE Federal Secretary Martin Byrne told ABC Radio.
There will be reviews of the incident by both AMSA and the Australian Transport Safety Bureau. They will look to shed light on how and why the ship lost all propulsion shortly after departing Port Kembla.
---
Tags