Members at work
Thames Clipper crew adapt to rebranded Uber Boats in new partnership for London
4 August 2020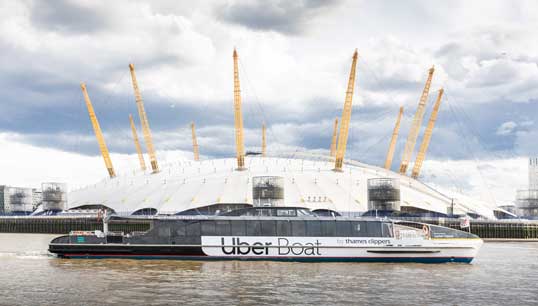 Thames Clipper crew will be working on newly re-branded Uber Boats, helping to get the Thames River passenger services in London on the move again in a new socially distanced way to meet pandemic safety measures.
The first of the rebranded Uber Boat vessels by Thames Clippers set sail on the river on Monday 3 August, marking the start of a partnership between Uber and Thames Clippers.
A Thames Clipper spokesperson confirmed the service would employ the existing team and no new hires were planned.
Nautilus national organiser Steve Doran said: 'Hopefully the Uber partnership will help Thames Clippers generate more footfall, which in turn will help generate income and protect jobs.'
The fleet of 20 vessels will all carry some element of rebranding with the Uber Boat by Thames Clippers brand, but the service will continue to be fully operated by Thames Clippers. AEG, owner and operator of The O2 stadium, own the majority stake in Thames Clippers.
The fleet will depart from 23 piers across London from Putney in the west to Woolwich Royal Arsenal in the east.
Uber is rolling out the service on its app, meaning users can purchase tickets in advance and then use QR technology to board. The payment will be processed using Uber account details.
Seats vary according to vessel type and capacity has been reduced to accommodate social distancing. Appropriate signage, hand sanitisers and face masks will also be available
Uber regional general manager for Northern and Eastern Europe Jamie Heywood said: 'As Londoners begin to head back to work and safely move across the city, they will now be able to travel on both the river and road through the Uber app. We must ensure that everyone does not return to their cars in response to the crisis, so our vision is to end private car ownership in favour of shared, electric vehicles, as well as making greater use of the river network for urban mobility.'
Thames Clippers co-founder and chief executive Sean Collins said: 'This partnership reflects the resurgence of the river and we're looking forward to welcoming new passengers on-board to enjoy the unique benefits of navigating London safely by taking to the Thames.'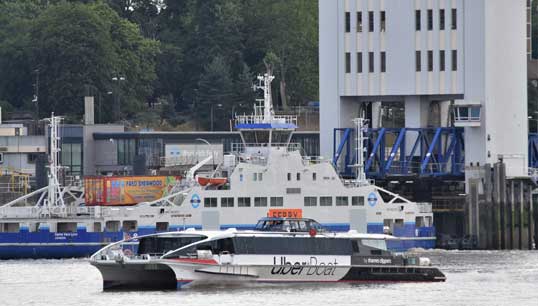 Over 4.3m people use the River Thames for commuting and leisure trips each year on the Thames Clippers network. The increased space per passenger and fresh air are part of the reason why over 40 per cent of river commuters are planning to increase their use of the service, according to recent research carried out by Thames Clippers.
Passengers will still be able to purchase tickets via the existing Thames Clippers' sales channels, including touching in and out with contactless or Oyster to pay as you go and via its own ticketing app.
Following a temporary suspension due to Covid-19 lockdown measures, Thames Clippers resumed operation on June 15 with a number of changes to its services including making all journeys fully contactless; supplying PPE for all staff; blocking off seats and providing floor markings to ensure distancing.
All passengers must use face coverings if they wish to use the service, in line with government and Transport for London (TfL) guidance.
---
Tags