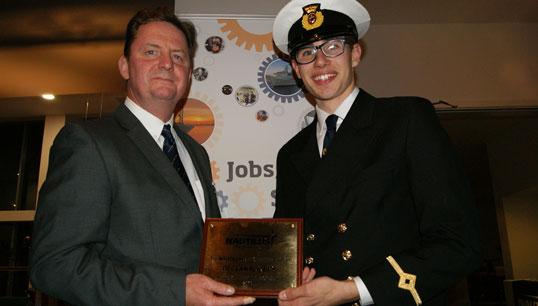 A Nautilus International award for trainee maritime officers in the UK and Ireland has been given a boost through a new collaboration with Maritime UK's annual awards programme.
The Bevis Minter Award recognises the achievements of the 'most worthy' cadet at a specific college in a specific year. It is designed to acknowledge a cadet who has worked hard to achieve success in their training. The nominated cadet will be a disciplined professional who is likely to succeed and gain the necessary certification. The nominated cadet must be a Nautilus International member.
The Bevis Minter Award was launched in 1996 and rotates around the UK and Ireland's principal nautical colleges: South Tyneside College (South Shields Marine School), City of Glasgow College (Riverside Campus), Solent University (Warsash Maritime School), Blackpool and the Fylde College (Fleetwood Nautical Campus) and the National Maritime College of Ireland.
The award honours not only the winning officer trainee but also the sponsoring company and training college.
Nautilus International general secretary Mark Dickinson said: 'We are very excited about our sponsorship of a new Maritime UK Award to honour a past chair of the Nautilus International Council - Bevis Minter. Bev was a passionate advocate of action to safeguard the supply of British seafaring skills but sadly he died in office and in his memory the Bevis Minter Award was originally established in 1996 to formally recognise the hard work and dedication of UK officer trainees.
'We hope that the award will now receive national prominence and contribute to a greater awareness of UK officer training within the wider context of the UK's hugely important maritime cluster.'
The third Maritime UK Awards in March 2022 are being held at the Glasgow Science Centre. Nautilus International assistant general secretary Olu Tunde sits on the Maritime UK Awards judging panel.
To find out more about the awards, visit the Maritime UK website: www.maritimeuk.org/awards-2022
---
Tags