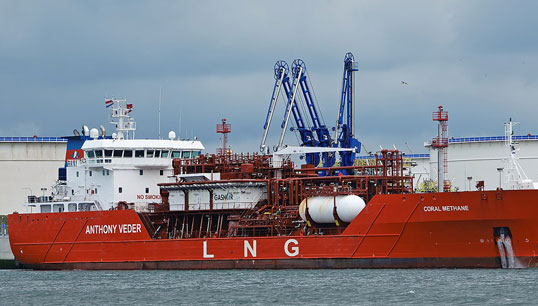 Nautilus International has petitioned Dutch gas tanker owner Anthony Veder to end its use of forced leave during the coronavirus pandemic.
The company has unilaterally written off leave for employees forced to stay home due to the coronavirus and in some cases introduced 'negative leave' (unpaid leave), the Union said.
Executive officer Sascha Meijer said: 'We strongly urge Anthony Veder to immediately stop juggling with unilaterally writing off leave for employees who had to stay at home longer due to the corona crisis.'
The shipowner is putting a lot of pressure on seafarers to use all their leave and return to sea, Ms Meijer said. 'They are not open to compromises. This is therefore not voluntary, but of continuing to put pressure on seafarers to give up their collective labor agreement rights.'
'It is incomprehensible and a bitter pill for all employees, that days off for which they have worked long and hard, are in fact in danger of being taken away.
'Holidays are to rest and not to sacrifice for what is really an employer risk in the Netherlands. Nor should this be necessary for such a successful company with an excellent reputation.'
The union urged Anthony Veder to return to the negotiating table to reach an unambiguous solution in line with the law and collective labor agreement in the Netherlands.
After months of discussion, Anthony Veder signaled it would repay unilaterally written off leave in October.
---
Tags