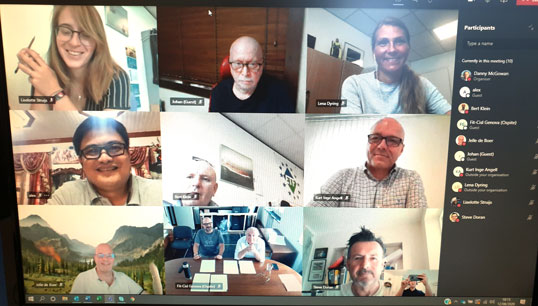 Nautilus International has convened a further meeting of unions with members working across Holland America Group brands, in response to the company's pandemic-induced proposals.
The meeting, held online and attended by AMOSUP (Philippines), FIT-CISL (Italy) and the Norwegian Seafarers' Union, discussed the unions' approach to the proposals while they engage with their members.
Unions detailed their actions so far in the process, including Nautilus which has issued bulletins to members requesting their input and feedback on the company's proposed collective bargaining agreement (CBA) amendments.
Together the unions expressed concern that the company's proposals did not appear to have any time limit and could therefore become permanent changes to long-standing CBAs.
The unions agreed to write a joint letter to Eric Visser, HA-Group director, Global Regulatory Training and Marine & Technical Strategic Development. Sent to the Company on 14 August, the letter informed Mr Visser that the unions will 'aim to… work constructively [with the company] through a tough situation for the Group's brands and our members who work onboard the vessels.'
The letter also requested that any amendments to the CBA – if agreed to by the unions – must be time-limited and temporary in their nature, indicating that the 'eventual return to service must bring with it a return to the terms and conditions that have previously been negotiated'.
The proposed consultation period put in place by the company was deemed insufficient. The unions reserved the right to continue gathering members' views to 30 August 2020, and to further collaborate on the matter until 6 September.
Nautilus national organiser representing members in the UK branch working for Princess, P&O Australia and Holland America Line Steve Doran said: 'We understand the position of the company and want to engage with it while protecting the interests of our members. Collaborative working with other unions can only assist and strengthen our position.'
Danny McGowan, international organiser for Nautilus said: 'In convening this further meeting we have given a number of unions whose members are likely to be affected by the company's proposals the opportunity to work together strategically. We will continue to host such video conferences throughout the process for unions to present a joint and coordinated approach in the interests of our respective members.'
Holland America Group (HA-Group) consists of Princess, P&O Australia, Holland America Line and Seabourn.
Affected Nautilus members are urged to respond to the Union's bulletins with their thoughts in order for these to feature in future discussions with the company.
---
Tags