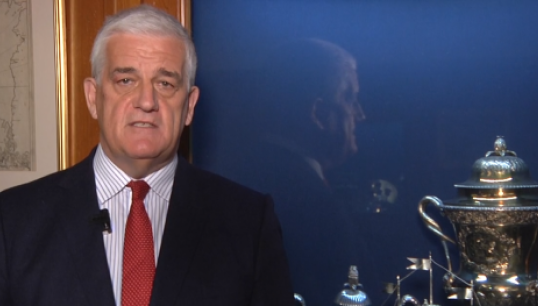 The winners of the 25th Maritime Media Awards have been announced at a virtual ceremony hosted from HQS Wellington, home of the Honourable Company of Master Mariners, which can be viewed at the Maritime Foundation's YouTube channel.
The awards were established by the Maritime Foundation in memory of Desmond Wettern, former naval correspondent of the Daily Telegraph, and have been held since 1995.
A panel of expert judges chose between 100 nominations for the four main categories, which honour the best achievements of journalism, literature, film making and innovative use of digital media in promoting Britain's interests across the maritime sector, and in raising public awareness of current maritime issues.
This year's winners were:
Alan Tovey, industry correspondent of the Daily Telegraph, won the Desmond Wettern Award for Best Journalism for his ability to make complex maritime issues understandable to his audience.
Lt Cdr Michael Hutchinson RN, Commanding Officer of HMS Tamar received the Desmond Wettern Fleet Award on behalf of the ship's company for raising the profile of the Royal Navy through a series of high-profile events and the use of traditional and social media.
The California-based Schmidt Ocean Institute was awarded the Babcock International First Sea Lord's Award for Best Use of Digital Media for its state-of-the-art website. This showcases the Institute's pioneering research and technology to the public.
Chris Terrill and his team at Uppercut Films won the Donald Gosling Award for Best Television or Film Production. They covered the first tour of the Royal Navy aircraft carrier HMS Queen Elizabeth for their BBC Two series Britain's Biggest Warship: Goes to Sea.
David Abulafia won the Mountbatten Award for Best Book for The Boundless Sea: A Human History of The Oceans, which examines our relationship with the sea from prehistory to the present day.
A list of commended entries and previous winners can be found at www.maritimefoundation.uk/awards/winners
---
Tags