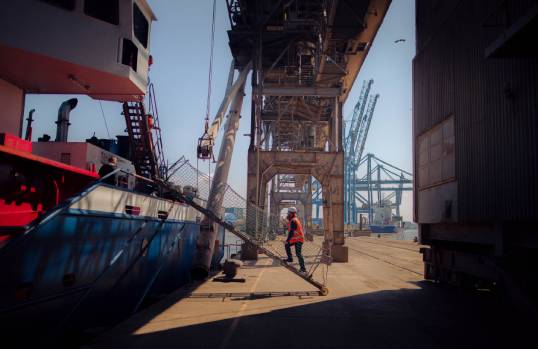 A series of UK workshops to help maritime workers identify cases of modern slavery has been launched by charity Stella Maris.
The newly developed workshops are funded by the Department for Transport through the Merchant Navy Welfare Board. They aim to provide participants with essential knowledge and tools to identify signs of modern slavery and to respond effectively to potential cases.
The sessions will be led by a panel of experts and will focus on key topics such as recognising indicators of exploitation; ways to reduce the risks of modern slavery; understanding the emerging threats and trends in modern slavery; and identifying and accessing appropriate support networks for those escaping modern slavery. Attendees will also have the opportunity to hear from those who have experienced modern slavery firsthand.
Stella Maris has created the workshops in response to a recent report from the International Labour Organization that there has been a 10% increase in forced labour since 2016 – a trend recognised by Stella Maris chaplains around the world. Seafarers and fishers who endure extended periods away from home and who may face isolation on vessels can be particularly susceptible to exploitation, says the charity.
Stella Maris CEO Tim Hill MBE said: 'We are extremely proud to launch these workshops as part of our ongoing commitment to improving the welfare of seafarers and fishers. Forced labour and modern slavery have no place in the modern maritime sector in the UK. By empowering individuals to recognise and address instances of these crimes, we can help to create a safer environment for those who work at sea.'
The workshops will be open to front-line port personnel, including ship visitors, ship operators, port authorities, law enforcement agencies, and other port stakeholders who come into contact with seafarers and fishers. To ensure accessibility and increased reach, the workshops will be held in six locations around the UK including: Liverpool, Bristol, Hull, Glasgow, Portsmouth and Belfast.
Find out more about the Combatting Modern Slavery in the Maritime Industry workshop series.
---
Tags