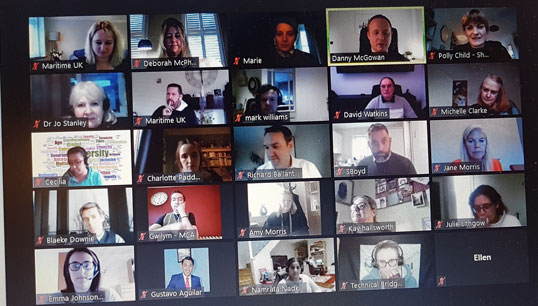 Maritime UK's Pride in Maritime Network held its biggest online meeting yet ahead of LGBT+ History Month, which heard exciting initiatives are underway for the month and the year beyond - including planning for industry toolkits supporting LGBT+ people and a round table for industry leaders.
The proposals were flagged at a recent Pride in Maritime Network meeting chaired by Nautilus's international organiser Danny McGowan and attended by more than 40 network members via Zoom.
Volunteers are sought to assist with initiatives and planning will begin in earnest during February.
Pride in Maritime Network is one of four Maritime UK Diversity in Maritime networks alongside Women in Maritime, Mental Health in Maritime and Ethnicity in Maritime.
Mr McGowan said: 'Many of the projects we discuss will really help to focus our industry and those who use our services towards maritime becoming a more welcoming place for LGBT+ people.'
While the online meeting was full of enthusiasm for developments across the industry, planning for physical events is still tricky, with the annual Pride in London event in July depending on the success of the Covid-19 vaccine rollout and permitted Covid-safety rules.
A LGBT+ roundtable event is under consideration, which would bring industry leaders together for networking, support and peer education.
The Pride in Maritime network heard from historian Dr Jo Stanley on the importance of finding historical LGBT+ role models to inspire new maritime professionals to take up the career and to ensure a diverse and welcoming future maritime industry.
Dr Stanley urged interested members to engage in the community projects begun in the UK by London's National Maritime Museum in Greenwich, which is hoping to get back on track with an LGBT+ project put on hold after its launch coincided with the outbreak of Covid-19.
The project aims to improve the profile of LGBT+ seafarers.
Medway towns of Rochester, Chatham, Gillingham, Rainham and Strood is also starting a large oral history project, including interviews with LGBT+ seafarers, particularly connecting with the pubs they used in the area, the meeting heard.
Efforts to find any trace of a group called Shore Leave, mentioned in a 1994 issue of the Union's previous publication NUMAST, has so far not turned up any leads even via Stonewall archives, but the search continues.
Dr Stanley is also working on other modern inspirational role models in maritime, including a former steward, an activist in the Gay Liberation Front, an overview of new gay media starting from the 1970s, and the potential dedication of a plaque in London to a Merchant Navy doctor from the 1940s who transitioned from female to male.
LGBT+ History Month events
---
Tags