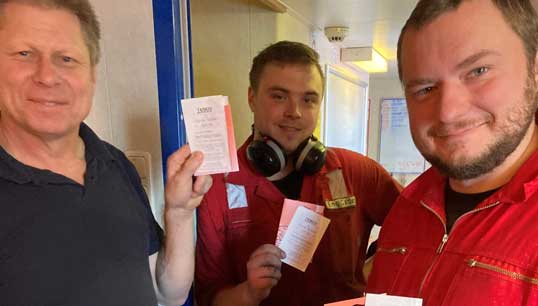 Maritime charities working internationally have ramped up services to support any seafarers who may be caught up in the Russian-Ukraine war.
The Merchant Navy Welfare Board (MNWB) used social media to praise the work of its constituent members, such as the Southampton Mission to Seafarers, and the work of the port chaplains, which it said 'is vital at this time and we encourage everyone to support them in caring for Ukrainians.'
The Southampton Mission tweeted it had 'spent time with the Ukrainian officers and crew from a recently arrived ship in the port of Southampton tonight. Provided free Internet access and listened to their worries and concerns.'
Stella Maris chaplains, volunteers and staff from around the world joined together on Ash Wednesday in a prayer for peace in the Ukraine. The charity's chaplains and ship visitors have been supporting all seafarers during the current crisis. More particularly, they have been providing support to both Ukrainian and Russian seafarers and those seafarers whose ships have had to navigate areas affected by the conflict. Stella Maris is also making phone cards and data SIMs available to Ukrainian seafarers free of charge.
The Ash Wednesday prayer service, joined by Fr Alexander Smerechynskyy, the Stella Maris Ukraine national director and port chaplain in Odessa, was convened in response to a call from Pope Francis.
International maritime charity Sailors' Society also launched a Ukrainian Crisis Appeal to support seafarers caught up in many various ways in the conflict.
Sailors' Society CEO Sara Baade said: 'I have been talking to our chaplains about their conversations with those affected. All are extremely concerned for the safety of their families. Some are frightened to return to their country, as they know it will mean taking up arms. Many sob as they talk about their fears and frustrations. This is tearing them apart.'
Sailors' Society is providing Wi-Fi units for mobile calls; increasing the funds available for emergency grants for seafarers and their families; drafting in more trained staff to resource its Crisis Response Network; and increasing capacity for its helpline.
Members are reminded the Nautilus 24/7 helpline staff are also on hand to receive queries from seafarers who want to go home or find out how their families can be evacuated from Ukraine.
---
Tags