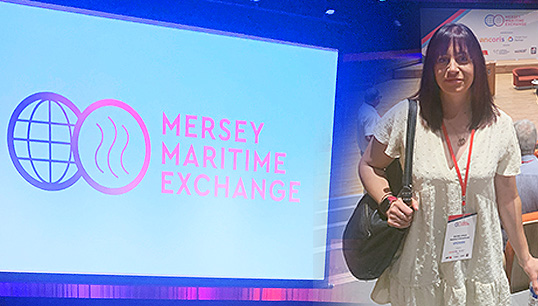 Nautilus took its message of a Just Transition for seafarers to the leaders of the UK's £116 billion maritime sector this week as a sponsor of the fifth Mersey Maritime Exchange.
The forum was conceived in 2019, in response to the UK government's Maritime 2050 report, which set out the future of the sector over the next three decades. At the heart of the report was a commitment to technological transformation, decarbonisation and a more inclusive, highly trained workforce.
Nautilus strategic organiser Rachel Lynch spoke about two of the key strands of the Maritime 2050 strategy – Technology and Innovation, and People and Skills – by highlighting the Union's campaigning for members to ensure relevant training towards any decarbonised and digitalised maritime industry.
Ms Lynch said: 'Our maritime professionals are critical to the future of the industry, and investing in them is key to maximising the social and economic opportunities that come from this green revolution. Unfortunately, if we look at the Clean Maritime Plan, the government's route map to decarbonise the industry, there is no mention of people and skills. And this gets to a broader issue.
'The vast majority of time and investment on decarbonisation has, so far, been focused on technology and fuels, and understandably so. However, you cannot implement new technologies and fuels without the skill base to support it. Innovation cannot outpace education. '
To maximise the opportunities that decarbonisation can bring, the government must recognise the benefits of investing in maritime education, added Ms Lynch, citing cadetships as an example.
'Oxford Economics reported that for every £1 spent on cadets, £4.80 is returned in GDP. However, cadetships remain inaccessible to many. Last year the government announced an increase in government SMART funding from 30% to 50%, but this still falls far short of the Maritime Skills Commission recommendation of 100% government SMART funding.
'Unfortunately, there is a high drop-off rate of cadets, in no small part because of the lack of support. A recent Nautilus survey found that a third were considering dropping out of training due to financial constraints. In some cases, cadets are earning as little as £600 per month while also having to pay for accommodation, food and other essentials. A worrying number of cadets reported cutting back on socialising and visiting family due to travel costs.
'If, as Maritime 2050 states, we want to "Inspire young people to pursue maritime careers" we must address issues that already exist within the system, knocking down barriers to access and ensuring proper support is provided. This is just one example but if we are to maximise the opportunities that come from new and emerging sectors such as offshore renewables, ensuring good employment opportunities for our people in regions like Merseyside, investing in maritime careers is critical.'
Automation and technological change, on their own, will not be the panacea to our problems, said Ms Lynch. 'People must be at the heart of the future we are aiming towards'.
---
Tags