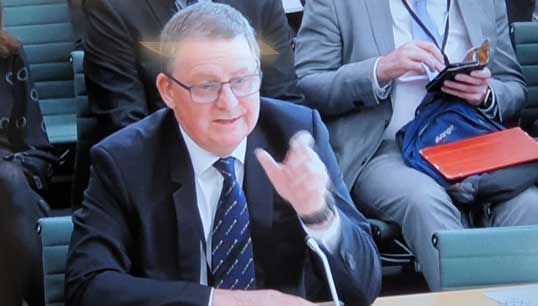 Nautilus International has urged newly-appointed Defence Secretary Grant Shapps to end the scandal of Ministry of Defence contracts being handed to disgraced firm P&O Ferries.
Since March 2022, when the company sacked hundreds of UK-based seafarers and replaced them with agency workers on reduced pay and conditions, the Ministry of Defence has reportedly spent £600,000 on contracts directly with the company.
Mr Shapps, now responsible for the Ministry of Defence, was Transport Secretary during the P&O Ferries crisis and announced the government's nine-point plan in response to the company's sacking of hundreds of UK-based seafarers, which included the recently launched voluntary Seafarers Charter.
In a letter to the minister, Mr Dickinson said:
'Nautilus welcomed your nine-point plan to hold P&O Ferries accountable and ensure that their actions could never happen again. We have worked with the government throughout the past 18 months to implement the nine-point plan. We supported the Seafarers Wages Act and the Seafarers' Chater as important steps to ensure that the actions of P&O Ferries are a line in the sand.
'On the 21st March 2022, as Secretary of State for Transport, you said "… we are committed to re-evaluating our relationship with P&O Ferries and will review our contracts with it and with DP World as a matter of urgency."
'P&O Ferries have also, thus far, refused to sign the Seafarers' Charter, while other leading ferry companies Stena Line, DFDS, Condor Ferries and Brittany Ferries have shown their intention to sign the charter.
'I write to you today with a simple request, on behalf of the maritime professionals who were treated so cruelly by P&O Ferries. If the Seafarers Charter, and indeed the nine-point plan, is to mean anything it must benefit those who sign it and disincentivise those who don't. P&O Ferries cannot continue to benefit from public contracts and I urge you in your new role to ensure that they do not.'
---
Tags