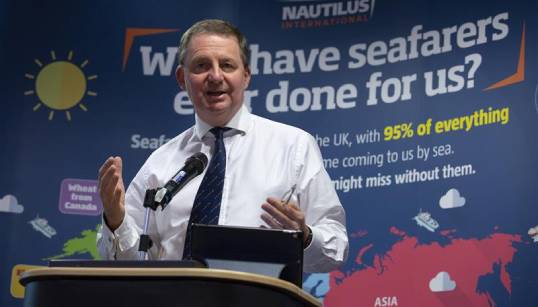 Nautilus International has called the UK government's Seafarers' Charter "a step forward" but continues to urge the government to make the charter mandatory. 
On Monday 24 July 2023, Minister for Aviation, Maritime and Security Baroness Vere of Norbiton launched the voluntary Seafarers' Charter, part of the government's nine-point plan in response to P&O Ferries' mass-sacking in March 2022.  
The minister made the announcement in Paris alongside her French counterpart, secrétaire d'État chargé de la Mer Hervé Berville, while signing a joint statement on seafarers' protections. 
The voluntary Seafarers' Charter includes action on wages, roster patterns, skills and professional development, tours of duty, rest, and others. 
Nautilus International general secretary Mark Dickinson said: 'The content of The Seafarers' Charter is a step forward; we particularly commend the government for listening to unions and the industry on the need to address safe roster patterns and combat seafarer fatigue. 
'The voluntary charter combined with the Seafarers Wages Act and the measures progressing in French law are key steps in combatting low wages and poor conditions, exacerbated by P&O Ferries sacking 786 seafarers in March 2022. These measures will help establish a level playing field for the employment of maritime professionals on routes between France and the United Kingdom. 
'However, to ensure maritime professionals on all routes in and out of the UK can benefit from the provisions within the charter, it must be mandatory as employers whose business model depends upon the exploitation of maritime professionals operating in and around UK territorial waters, it isn't enough.  
'The government, whilst making progress, still has some way to go to fully deliver on the ambitions of the nine-point plan announced in the aftermath of the unlawful sackings by P&O Ferries. Nautilus will continue to work with government and industry in driving for measures that represent meaningful improvements in the employment of all maritime professionals.'
---
Tags