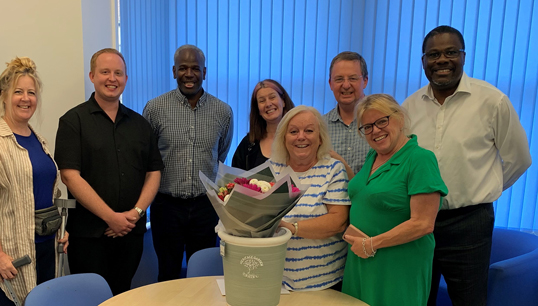 Long-serving Nautilus staff member Adele McDonald is stepping into retirement – but it won't be quite the last that Union members hear of her.
The role Adele is leaving is that of executive personal assistant, reporting to the Nautilus general secretary. She has played a part in organising important Nautilus events such as the quarterly meetings of the governing Council, the four-yearly General Meeting and the annual UK Branch Conference. In addition, she has carried out work for Human Resources, and in recent years has been the line manager for colleagues in the Central Services department.
It's all a bit different from when a youthful Adele joined the Nautilus predecessor Union MNAOA in 1978. Just two years out of school, she was a qualified shorthand note taker and typist who had previously been working in a bank in central London. A miserable commute over a hard winter persuaded her to follow up a friend's tip of a vacancy closer to her home in northeast London, and that is how she ended up at the MNAOA.
At first, she was a secretary for officials in the ferry and airline sectors (MNAOA means Merchant Navy and Airline Officers' Association). But then along came Peter McEwen, the future deputy general secretary of the Union, and a partnership was born spanning 34 years until Mr McEwen's retirement in 2014.
'Peter first asked me to work for him when he was administrative officer for the general secretary,' Adele remembers. 'He did so much work to modernise the Union and the Welfare Fund, and he often stayed at the office late at night dictating tapes for me to pick up and transcribe the next day.
'It was full on, but he taught me everything I know, and he started delegating responsibilities to me. That's when I started working with the Council, which has probably been my favourite thing about my job. I have really enjoyed welcoming new members to the Council and supporting them through their time in office. I've always been on the end of the phone to answer their questions and have a chat.'
Happily for today's Council members, they won't be losing Adele just yet, as she will continue working a few hours a week to support them, as well as helping to organise other meetings and events. Indeed, in recent weeks she has been arranging for Nautilus members to represent the UK Merchant Navy at November's remembrance ceremonies.
But she is also very much looking forward to relinquishing her other tasks to spend more time with her little granddaughter Clara – as well as realising an ambition to tour Britain with her husband Gary and golden retriever puppy Kobe – so the lure of full retirement is surely not far away.
---
Tags