Health and safety
MAIB issues safety bulletin following multiple cruiseship anchor failures
6 April 2021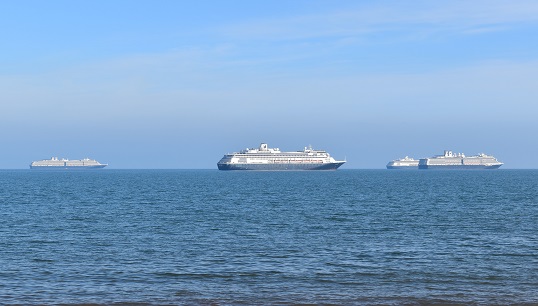 The UK Marine Accident Investigation Branch (MAIB) has issued a safety bulletin after identifying a trend in anchoring equipment failures aboard cruiseships.
MAIB are aware of several marine incidents since October 2020 where cruiseship anchors or anchor cables have failed, often while trying to ride out winter storms. One cruiseship lost both of its anchors within a week.
Many cruise vessels have been anchored off the UK's south coast during the Covid-19 pandemic, often for long periods of time and in conditions much worse than they would usually anchor.
Initial findings have shown that the wear rate of the anchoring equipment in adverse conditions is exceeding the design limits of the anchoring systems.
Failures have occurred in joining links, anchor chain common links, D-links and across the anchor crown, causing the flukes to be lost. MAIB's findings indicate that anchor equipment has been failing due to operational issues rather than fabrication defects.
MAIB has issued the following safety advice:
There must be a proactive approach in operations to prevent overloading anchor equipment. If strong winds are forecast, action should be taken to seek more sheltered anchorage and not to wait until the anchor drags in the winds
Steps should be taken to minimise wear on anchoring equipment and an appropriately experienced crew member should carry out regular checks on the equipment
Watchkeepers and senior officers must be aware of reporting requirements to the coastal state in the event of losing an anchor
A full assessment of the anchoring equipment should be carried out before returning to normal service due to the extended use of anchors during this period
The full report is available for download on the UK Government Website.
---
Tags