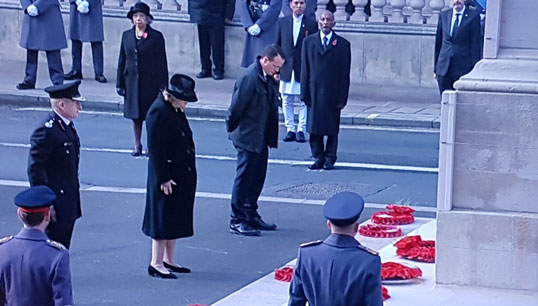 Nautilus presented a wreath on behalf of the Merchant Navy and fishing fleet during a scaled-back service at the annual Cenotaph event for Remembrance Sunday.
Nautilus professional and technical officer David Appleton - a former seafarer - laid the wreath instead of attending the annual service usually held at Westminster Abbey as planned.
He paid respects alongside dignitaries Minnie Churchill, honorary president of the Air Transport Auxiliary and granddaughter-in-law of former prime minister Sir Winston Churchill, and Roy Wilsher, National Fire Chiefs Council chair, who represented the civilian services.
'It was a great honour to be able to lay the wreath on behalf of the Merchant Navy and fishing fleets, although it was a great pity that many who would have liked to attend services in London and around the UK were unable to do so,' Mr Appleton said.
The public march by parade was cancelled for the first time in 100 years due to pandemic restriction.
Her Majesty the Queen led the nation in marking the day.
Following a two-minute silence, wreaths were laid by Prince Charles, Prince William and the Prime Minister Boris Johnson, among others.
The commemorations remember the armed forces community, British and Commonwealth veterans, the allies who fought alongside the UK and the civilian servicemen and women involved in the two world wars and later conflicts.
---
Tags