Community
Merchant Navy features in Commonwealth War Graves Commission educational campaign
26 October 2020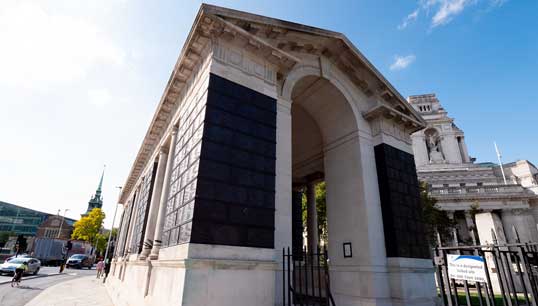 Men and women of the Merchant Navy who lost their lives in global conflicts are featured in a new Commonwealth War Graves Commission campaign to educate people about war graves and memorials.
The campaign was launched after Covid-19 restrictions caused many annual Remembrance Sunday events to be cancelled and prevented people making other visits to war graves and memorials during 2020.
It includes digital resources which can be read and shared from the comfort of home and free downloadable walking tours for those who are able to safely get out and about in accordance with social distancing and local guidelines.
The sites that the Commission's historians have highlighted include the Tower Hill Memorial in London and the Liverpool Naval Memorial, which both commemorate Merchant Navy casualties.
The memorial in the heart of London commemorates more than 36,000 seafarers 'who have no grave but the sea'. It includes nearly 12,000 seafarers and fishermen of the First World War and nearly 23,800 of the Second World War who have no known grave. It also describes the history of the Red Ensign for the merchant fleet and its vital supply role in times of conflict. The memorial stands in the gardens of Trinity House , close to the Old Billingsgate Market (the former heart of Britain's fish trade), the port of London's Custom House and within sight of the River Thames - an area which would once have thronged with sailors and dockers from all parts of the British Empire and beyond.
The Liverpool memorial commemorates more than 1,400 Merchant Navy seafarers who died serving the Royal Navy in the Second World War and has links to other Commonwealth war burial cemeteries in Liverpool.
Each of these sites has a handy free downloadable walking tour, and within these there are some touching personal stories in remembrance of veterans.
The Tower Hill Memorial got a major spruce-up in 2019, and further cleaning and turf renovations were undertaken in summer 2020.
---
Tags