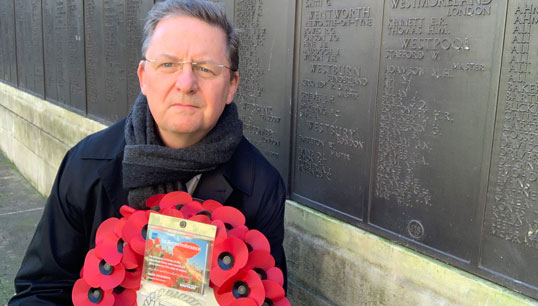 Nautilus has paid its respects to seafarers lost in global conflicts ahead of a second lockdown in the UK, which has meant the cancellation or adaptation of many annual Remembrance Day events involving the Merchant Navy.
General secretary Mark Dickinson laid a wreath at the Tower Hill Merchant Navy Memorial in London.
'The sacrifice of seafarers, our keyworkers, must never be forgotten,' he said.
Nautilus is invited to the Tower Hill event by the Honourable Company of Master Mariners (HCMM). HCMM will send a smaller contingent to mark the occasion, and to lay any wreaths that have been sent to Trinity House, along with wreaths from HCMM headquarters.
The Nautilus wreath laid by Mr Dickinson is provided by the Royal British Legion.
With stringent new restrictions coming in on Thursday 5 November, many remembrance services are being adapted to meet the new requirements.
Nautilus professional and technical officer David Appleton will lay a wreath on behalf of the Merchant Navy at the Cenotaph on 8 November, instead of attending the annual service usually held at Westminster Abbey.
At the Nautilus Mariners' Park Estate, residents will not gather for their usual remembrance ceremony at the Memorial Stone in order to maintain the strict Covid-19 hygiene standards needed to ensure the safety of retired seafarers and veterans, but are encouraged to watch televised events.
Thousands of crosses are being laid by the Royal British Legion at the Field of Remembrance at Westminster Abbey, which will be officially opened on 5 November. Volunteers are laying more than 12,000 crosses over 380 plots laid out in the names of military associations and other organisations. The Legion also held its own ceremony on 4 November at the National Memorial Arboretum.
The public annual March Past at the Cenotaph has been cancelled for the first time in 100 years, but the public are being encouraged by the Legion to observe a two minute silence at home or via the televised event and to take part in other acts of remembrance online.
These include broadcasts by the BBC to mark the 75th anniversary of the end of the Second World War, across the week from 7 November. A televised event for the 100th anniversary of the burial of the Unknown Warrior, will be broadcast from Westminster Abbey to commemorate Armistice Day. The Festival of Remembrance, the annual commemorative event organised by the Legion from the Royal Albert Hall, will be shown on 7 November, and on Remembrance Sunday, and highlights of the Cenotaph event ,which marks the unveiling of the Cenotaph and brings to a close centennial tributes marking the end of the First World War, will be broadcast from 7pm.
---
Tags