Federation
Nautilus Federation marine engineering affiliate celebrates landmark new ferry contract deal
6 September 2023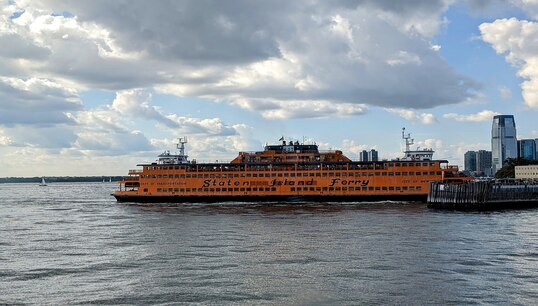 Thirteen years of negotiations on behalf of ferry crew in New York has ended successfully, with Nautilus Federation affiliate union in the United States the Marine Engineers Beneficial Association (MEBA) welcoming the finalisation of an agreement on a new contract which brings deck and engine crew wages in line with industry standards.
The landmark deal between the MEBA and the City of New York was announced on US Labor Day, and affects all Staten Island Ferry officers (deck and engine). The MEBA represents all five officer titles at the Staten Island Ferry (captain, chief engineer, marine engineer, assistant captain and mate) and all of those titles have been without a contract for over 13 years.
A statement from the MEBA said: 'Previously, these officers were being paid significantly less than their counterparts at other ferry operations around the country. This wage adjustment not only recognizes the skills and expertise of the ferry officers but also ensures fair compensation for their work and should relieve recruiting and retention issues that are currently plaguing the ferry system. The new agreement makes the Staten Island Ferry the highest paying public ferry system in the country.'
MEBA secretary-treasurer Roland Rexha welcomed the signing of the new contract at a Labor Day event in NYC where the city's mayor Eric Adams announced the new contract.
'On this Labor Day in 2023 we have achieved a remarkable feat. Transforming the lowest paid ferry jobs in the nation into the highest paid,' said Mr Rexha.
'This accomplishment was made possible by our members transitioning to a 40-hour work week, providing immediate relief to our ongoing staffing shortages. Now New York City can recruit and retain mariners, to hopefully provide the reliable service that Staten Islanders truly deserve.'
---
Tags