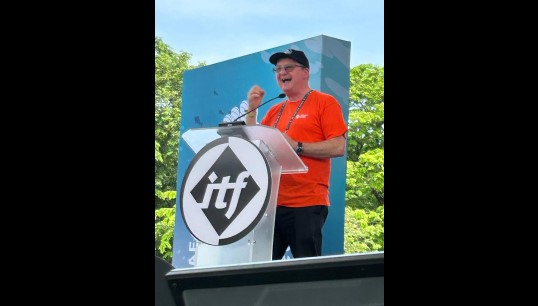 Nautilus general secretary Mark Dickinson has spoken out against sea blindness and the ongoing abuse of the Flag of Convenience (FOC) system at the International Transport Workers' Federation (ITF) Seafarers' Expo.
The ITF Seafarers' Expo was held in Manila, and gave 5,000 people – seafarers and their families – the opportunity to speak with ITF inspectors, as well as legal, labour and health experts, about the issues affected their lives.
The final day of the Expo coincided with the International Day of the Seafarer, on 25 June, and the event also marked 75 years of ITF campaigning against FOCs, and more than a dozen ITF inspectors were brought to Manila from across the world to explain to seafarers their rights when working on board FOC vessels.
Mr Dickinson, who also serves as vice chair of the ITF Seafarers' Section, used the closing speech at the event to highlight both the value of seafarers to the world and the important work being done by trade unions to enforce their rights.
'I am standing here to acknowledge that after 75 years we are still campaigning, fighting for justice for all seafarers, and for dockers, and for an end to the commercialisation of the ship registry business. An end to shipowners hiding away in exotic palm fringed tax havens and for a new beginning of accountability, responsibility and adherence to international law,' he said.
'Holding this Seafarers' Expo to inform seafarers of their rights and of the role trade unions play in protecting their interests – alongside providing guidance on wellbeing and information on where to look for support, and celebrating them today especially – is one of many ways that we as an ITF family are playing our part in making sure our industry is one in which people really want to work.'
---
Tags