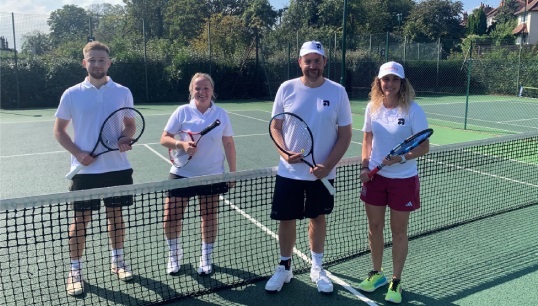 After a week in which many maritime professionals gathered for industry events in London, sporting colleagues were able to let loose at a charity fundraiser on Friday 15 September.
The Maritime Grand Slam was hosted by Nautilus International and Maritime London at Conway Lawn Tennis Club in north London, and was held in support of the Nautilus Welfare Fund charity and the Maritime London Officer Cadet Scholarship.
The mixed doubles event attracted teams from Navigate PR, MTM Agency, Nautilus Welfare Fund and Ancoris, playing for Maritime UK – with a little help from Conway club members where needed.
After a warm welcome from tournament director Helen Kelly of Nautilus, the doubles partners fortified themselves with coffee and pastries and got to work on the competition itself.
Matches were played in a speedy 'round-robin' format in which each team played each of the others and the first to win four games won the match.
The two highest-scoring pairs – MTM Agency and Ancoris/Maritime UK – contested a keenly-fought final, with Ancoris/Maritime UK coming through as the overall winners.
Ms Kelly was delighted with the success of the event. 'We all had a great time, and even more importantly, we raised lots of money for two awesome maritime charities.
'We've had loads of great feedback from attendees, so don't be surprised if you see the Maritime Grand Slam popping up again at other big shipping events in cities across the UK.'
---
Tags