Environment
Ocean Rebellion protest Wakashio oil spill response outside LISW Conference
15 September 2021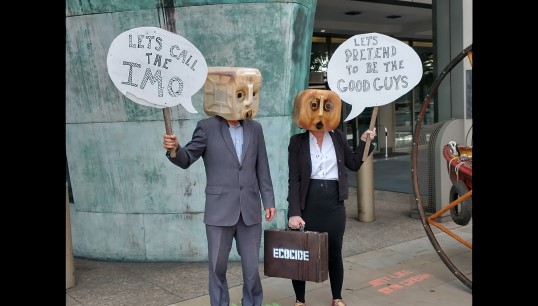 Demonstrators from Ocean Rebellion appeared outside London International Shipping Week's (LISW) headline conference, to raise awareness of the International Maritime Organization's (IMO) alleged failures in the investigation of the MV Wakashio disaster.
The Panama-flagged bulk carrier MV Wakashio was grounded off Mauritius on 25 July 2020, releasing an estimated 1,000 tonnes of very low sulphur fuel oil (VLSFO) into the marine environment.
Ocean Rebellion's co-founder, Rob Higgs, said that the IMO was not fit for purpose as a UN agency due to its close ties to business – exemplified by the decision to host a week of LISW sessions on business growth despite its mandate to prevent pollution and protect the oceans.
He highlighted the UN body's decision to back up Matthew Sommerville, the expert it sent to Mauritius following the disaster, despite his comments to Mauritian media that the fuel oil spilled by Wakashio was 'just like skin cream'. This prompted a response from the World Health Organization (WHO) explaining its carcinogenic properties.
He also noted the loss of key evidence during the investigation, including data from the ship's black box and samples of the fuel oil, which would allow for an improved response.
Mr Higgs said that the vessel's missing black box data should be located, the samples of fuel oil should be released to determine the nature of the pollution, and a full investigation should be launched into the grounding of the vessel. Further, the group want to see a global ban on the use of heavy fuel oil.
The IMO responded by providing the Casualty Investigation Code, which makes clear that the flag state (in this case Panama) is responsible for any investigation
Only once this investigation report is completed it will be forwarded to IMO, and any recommendations therein considered.
Ocean Rebellion is an offshoot of Extinction Rebellion that campaigns to pressure international bodies like the UN to address threats to the world's marine ecosystems. The group has also protested against the flags of convenience system outside IMO headquarters in London.
---
Tags