Technology
Pandemic accelerates the need for improved connectivity at sea for seafarers
16 September 2021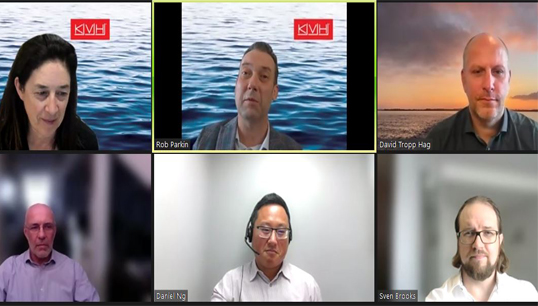 Shipping is in the 'experimentation phase' of digitalization in the maritime industry, say connectivity experts.
Panellists from industries responsible for designing connectivity for operations, and crew debated how to create the ideal digital vessel at a webinar hosted by KVH Industries during London International Shipping Week.
The discussion reflected the breadth and pace of digital transformation that had occurred in response to travel and trade restrictions during the pandemic, as well as concerns about cyber risks, and the dynamics of driving business profits. It also highlighted how more maritime stakeholders were considering opportunities for experimenting with digitalising their businesses.
CEO of security specialists CyberOwl Daniel Ng said: 'I believe we are in the phase of shipping for digitalization which I would characterise as an experimentation phase, which is not negative at all, actually. It is just different from where it was two years ago, where there was a lot of scepticism. We've now moved into experimentation, and I think people are willing to try to understand and perceive the value of digitalization in shipping in across the fleet.'
The webinar heard that during the pandemic there had been an acceleration in the need for connectivity for personal and business use at sea due to restrictions on travel and trade, as well as a move to remote analytics and remote surveys.
While much of the panel discussion centered on OT/IT solutions, panellists also agreed the human element was also still critical for the ideal digital vessel. They acknowledged it was evident solutions were needed to respond to crew welfare and personnel connectivity needs, as highlighted by the crew change crisis. It is less clear what is coming next, in terms of cheap or free personal data connectivity.
KVH senior director of media, David Tropp Hag said KVH did what it could to help seafarers with connectivity, offering free newsletters, and half price on [entertainment] recordings, as well as half price on upgrades for data capacity.
'We do what we can to enable ship owners and operators to provide the connectivity, although ultimately it is the manager or ship owner who decides the connectivity level and price level.'
In response to [Nautilus and IMO] questions about what will drive standards for improving crew welfare via connectivity, Mike Powell a former master mariner and strategy director at fleet tracking services and vessel monitoring systems specialist StratumFive, said it would rely on the maritime stakeholder community and money, particularly with the drive to meet decarbonisation standards.
'Once you put a price on carbon, for example, somebody's running around with a dipstick and wiping it with a rag to measure your oil content, or having a guess of what's coming out of a funnel, that's not going to cut it,' said Mr Powell.
'So, once we attach a value to those to those things, then you'll see people get very exercised. Once we get around to having a real market for carbon for example, whatever that looks like, we're going to need to really zero in on all the data associated with that with that. So, I think those are the two things that will drive standards.'
---
Tags