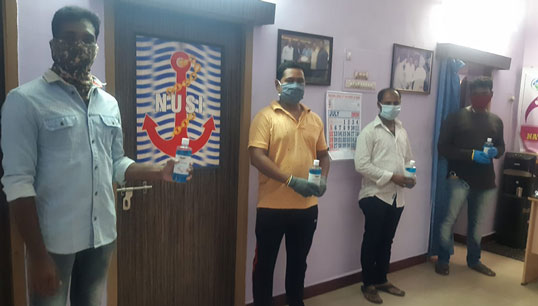 Two new emergency projects are being funded by the ITF Seafarers' Trust and delivered through Indian seafarers' unions in response to the country's severe second wave of Covid-19. They will help affected maritime professionals and their families facing health and financial hardships.
Oxygen concentrators and emergency supplies are being sent urgently as India's health system teeters on the brink of collapse under pressure from the pandemic. The two grants total £215,000 GBP ($305,085 USD).
The National Union of Seafarers of India (NUSI) will use its network of branches across the country to deliver the oxygen concentrators free of charge to seafarers and their families. The initiative is part of a wider union project to increase the number of ventilator beds in government hospitals.
A second grant from the ITF Seafarers' Trust will fund supplies for Indian seafarers and their families who are experiencing hardship during lockdown or in periods of quarantine. The Forward Seamen's Union of India (FSUI) will coordinate getting logistical support and essential goods to seafarers in locked-down ports, as well as providing assistance to families who have lost loved ones to the virus.
Head of the ITF Seafarers' Trust Katie Higginbottom commented: 'Last year Indian seafarers' unions were at the forefront of getting emergency supplies and hand sanitizers to seafarers as the pandemic was just beginning.
'Now we are all bearing witness to the human tragedy unfolding in India with this deadly second wave, and the ITF Seafarers' Trust is proud to support unions stepping up to save as many lives as possible and reduce the hardship being faced by Indian seafarers and their families.'
NUSI general secretary Abdulgani Y. Serang said the grant for oxygen concentrators will save lives because it helps address a chronic lack of breathing-support equipment in the country.
FSUI general secretary Manoj Yadav was also confident that the grants would make a difference. 'Many seafarers have tested positive, and many have died. Too many. We are doing our best to provide the necessary support to seafarers' families in very challenging circumstances.'
---
Tags