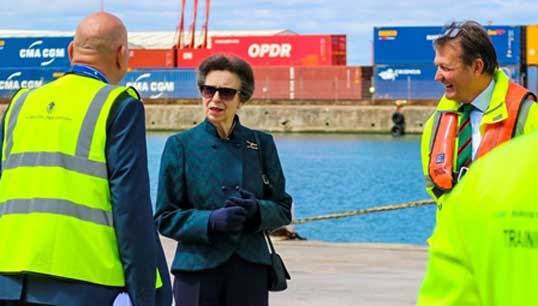 Maritime UK patron HRH The Princess Royal has paid tribute to maritime workers' critical role as the 'first and last link' in the supply chain during the coronavirus crisis.
The Princess Royal made the comments in a video released ahead of a visit with crew and other maritime keyworkers at Bristol Port. She met staff at Avonmouth and Royal Edward Docks who have been working to keep the UK supplied over the past few months. As part of the visit, Princess Anne also met three crew members on board plough dredging vessel Graham Robertson.
Princess Anne said: 'I want to thank our maritime key workers for the critical role you have played during the coronavirus crisis - and continue to play. Britain is a maritime nation and its maritime sector is central to national life and prosperity.'
The maritime industry facilitates 95% of maritime trade linking the UK to 'countries and peoples across the world', she said. 'While the rest of us were largely indoors, you had to go work to keep Britain supplied. Whether working on ships, or in ports, and making sure our ships are safe.
'You played a vital role as a first and last link supporting hundreds of small businesses that are in the supply chain for the smooth flow of freight into and out of the country.
'Just as we celebrate our NHS workers, so too we should celebrate our maritime workers.'
Bristol port handles millions of tonnes of critical cargo, including animal feed for almost all livestock in southern England, containers which bring in thousands of different commodities and the wood pulp that makes millions of rolls of toilet paper.
---
Tags