Education and training
Royal seal of approval for yacht college's Covid-conscious development plans
12 October 2020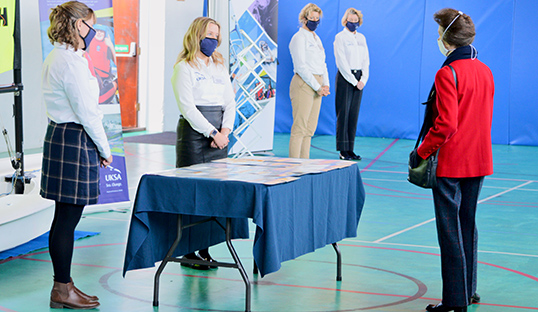 Nautilus strategic yacht partner UKSA has welcomed HRH The Princess Royal to its Isle of Wight campus for a visit marking the beginning of an unusual academic year.
As patron of the institution since 1992, Princess Anne is regularly informed of all developments, and on her 9 October visit, she saw for herself how the former Cowes Youth Centre had been acquired and relaunched as UKSA's new training centre. Developed in response to the Covid-19 pandemic, the facility houses newly-created navigation and broadcast suites that enable the college to deliver live online learning to students unable to attend in person.
The Royal visitor was also updated on the progress of plans to build a new accommodation facility to support students staying on site. Planning permission is already in place for this, and the Princess was shown the final stage of the design plans.
As well as offering STCW training for professional superyacht crew, UKSA provides outreach programmes to help young people achieve their potential, and the Princess was told of the college's new Sea.Change Fund enabling 14-18 year-olds to visit for five days of yachting and watersports in their school holidays.
Also discussed was UKSA's accreditation as a recognised training provider for the Able Seafarer Deck and Work Boat apprenticeships, and the Princess additionally heard about the September 2020 launch of the college's two-year Maritime Foundation course to provide school leavers with the essential skills, qualifications and knowledge required to start a career in the maritime industry.
UKSA CEO Ben Willows commented: 'Having guided the organisation through the very significant impact of Covid, it was particularly uplifting for the team to welcome The Princess Royal to UKSA, and for this we thank her. We were proud to share our progress on several exciting initiatives that will strengthen both UKSA's future and the future of the thousands of young people we work with every year.'
---
Tags