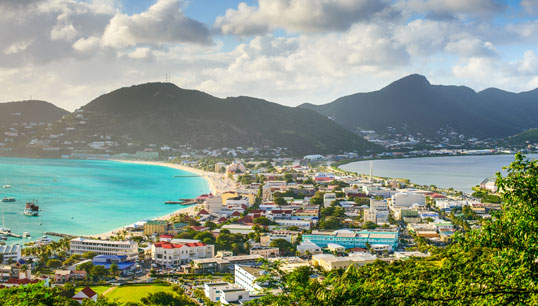 A travel ban is now in force by the Dutch Caribbean island of Sint Maarten for travellers from the UK and South Africa.
Sint Maarten, part of the Kingdom of the Netherlands, is a country on the southern part of a Caribbean island shared with Saint-Martin. It attracts many superyachts at this time of year.
Sint Maarten has established a raft of counter-Covid restrictions at its border as of 27 January 2021 including a travel ban for 'persons who have been the past 14 days in a banned country.'
Residents are exempted and can return and get tested upon arrival for a fee of $125.00.
Sint Maarten has also implemented mandatory Covid-19 insurance for all travellers with the exception of residents, transit passengers, flight crews, French nationals, AUC faculty and students and BES-ZVK medical referrals. Transiting cruise ship crews are also exempt.
The insurance purchasing process is an integrated step in the EHAS application. Travelers requiring the Covid-19 insurance must complete this process well before time of travel. For more information on the Covid-19 insurance visit www.sxmprotectionplan.com.
Also mandatory for allowed travellers is a health authorisation application through an Electronic Health Authorization System (EHAS) for every visitor arriving by air including transits, Sint Maarten and Saint-Martin residents.
As of 12 February 2021, the rt-PCR Covid test time frame will also be reduced from 120 to 72 hours before departure to Sint Maarten for all travellers originating from a high-risk country (last leg in case of connecting flights).
Nautilus strategic organiser Rachel Lynch said requirements globally were constantly changing, so crew should also check themselves with country websites prior to travel to see what restrictions, and testing requirements were in place.
---
Tags