International
UN must persuade governments to adopt crew changes or face disaster, global maritime leaders warn
27 May 2020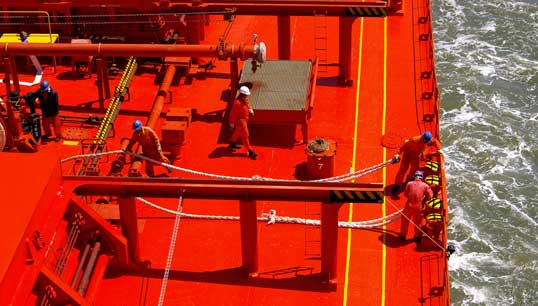 With over 200,000 tired, mentally stretched seafarers stuck on ships across the globe, the international maritime industry is calling on United Nations Secretary General António Guterres to persuade the 193 UN member states to immediately implement the 12-step crew change protocols developed by the International Maritime Organization (IMO).
'There is no time to waste,' the International Chamber of Shipping (ICS), the International Trade Union Confederation (ITUC) and the International Transport Workers' Federation (ITF) said.
'There are 200,000 seafarers out there right now desperate to get home to their own beds, see their families and hug their kids,' ITF General Secretary Steve Cotton said.
'They've been stuck on their ships, keeping global trade running since this pandemic blew up. Enough is enough, they have earned their ticket home. Now governments must make that happen.'
As travel restrictions swept across global economies, trade continued thanks to the millions of seafarers crewing ships across the world.
Their commitment to keeping open the supply lines for food, fuel and goods, including vital medical provisions, has enabled governments to focus on addressing the Covid-19 pandemic.
But the crew change process necessary to support the world's mariners has, with very few exceptions, ground to a halt.
'It's time for governments to open their hearts, and open their borders, to the world's seafarers,' Cotton said.
'The alternative is exhausted crews and the shutting down of global trade. The world can't afford that.'
Although there has been engagement from some national governments, such as by designating seafarers' essential workers, there has been no fundamental progress on the crew change crisis.
'As thousands of seafarers face exhaustion at the helm of critical supply routes, the clock is ticking for governments,' the ITF, the ICS and the ITUC wrote.
'Time is running out. We ask that action be taken immediately, ahead of June 16, the final agreed deadline to implement crew changes for our seafarers.'
ICS member shipping companies operate over 80 percent of the world's merchant tonnage. The ITUC represents around 250 million workers around the world.
The ITF connects trade unions in 150 countries that collectively represent nearly 20 million working men and women.
---
Tags