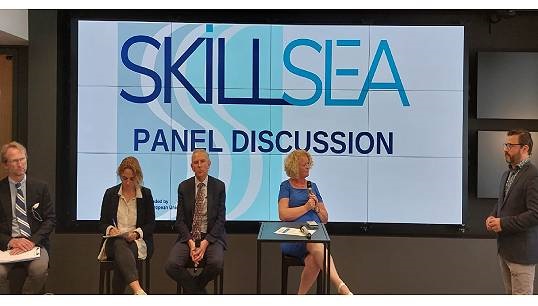 The shipping industry's transition to greener fuels and other new technology is going to require major revisions to maritime training - and thanks to the Europe-wide SkillSea project, we now have a blueprint for what this is likely to involve. Andrew Linington reports
Nautilus International was one of 26 partners from 15 countries involved in the EU-funded SkillSea project, which began work in 2019 with the aim of equipping European seafarers with key digital, green and 'soft' management expertise for handling increasingly 'smart' ships, helping to deliver more sustainable shipping operations.
The SkillSea strategy also sets out measures to improve the image of the industry and to boost European seafarer numbers.
Nautilus executive officer Sascha Meijer was one of the speakers at a special event in Brussels to present the findings of the project, discuss its recommendations, and to launch a new forum to foster greater collaboration between European maritime education and training providers.
Opening the conference, project chairman Renee Boelaars said the human element remains vital for safe and efficient shipping and it was important to provide current and future seafarers with the skills required for the challenges that lie ahead.
Professor Damir Zec told how the project had carried out extensive research among seafarers, shore-based staff and shipping companies to identify current skills gaps and to develop programmes to close them.
He said it was clear from the analysis of the feedback that the STCW Convention is an 'obsolete document' that required only basic knowledge. 'Seafarers said that a lot of subjects are missing from their training,' he added. 'There is a skills gap already and it is set to increase over the next 20 to 30 years.'
Complex skills are needed in response to the digital transformation of shipping, Prof Zec pointed out, and new fuels for the decarbonisation of the industry will also require specialist training.
'A lot of seafarers will need to be trained in a very short time,' he warned, 'and shipowners face a challenging task to educate seafarers to a much higher standard in future.'
Vangelis Tsioumas, research manager with the Eugenides Foundation, said the poor image of the maritime sector deterred many high-quality potential entrants to the industry and was also a factor in high wastage rates. The SkillSea project had identified a need to make shipping more attractive, to better promote career opportunities, and to remove obstacles to the mobility of maritime professionals.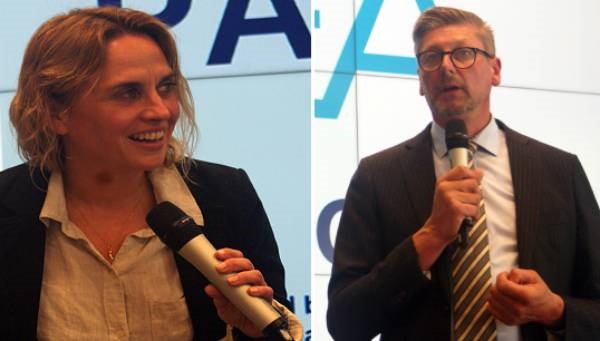 Speaking on behalf of the European Transport Workers' Federation, Sascha Meijer told the meeting that Nautilus had been pleased to support the project and welcomed the findings, noting that they showed a need to modernise labour relations in shipping.
'There should be a stronger relationship between seafarers and their employers,' she added.
'There is a clear link between productivity and permanent jobs and a sector where that relationship is closer will be more attractive and more productive.'
Creative ways of improving life at sea – such as easing the path between deepsea and shortsea employment – should be developed and applied on an industry-wide basis in the European maritime space, she argued.
Ms Meijer said the rapid pace of change in shipping meant that widescale retraining and upskilling of seafarers should have been started a long time ago. This should also be done in line with 'Just Transition' principles, leading to decent, safe and attractive jobs, with seafarers not being forced to pay for getting skills that the industry needs.
'This is a chance for Europe to lead the way in quality shipping,' she pointed out. 'Safety is hugely important and when we do new jobs with old skills it can be very dangerous for people and the environment.'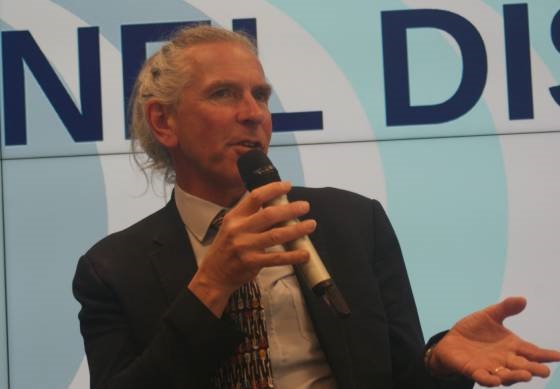 Tim Springett, speaking on behalf of the European Community Shipowners' Associations, warned that much would need to be taken out of the STCW Convention if new subject areas are to be introduced during its revision. 'If you don't, you will have CoC syllabi that are so big it will take longer to train a ship's officer than a doctor,' he argued. 'The question that has to be answered is that every new element going into it has to be essential for the safe operation of the ship.'
While the ups and downs of shipping markets make it hard to sustain continuity of employment, Mr Springett suggested that more can be done to improve life at sea.
Justyna Bartnicka, from the European Commission's transport directorate DG MOVE, said the SkillSea project results would be analysed and potentially included as part of Europe's contribution to the STCW revision. Europe would support moves to ensure that STCW embraces issues such as mental health, social skills and cultural awareness, but she stressed that new rules for a global industry had to be developed in a global perspective.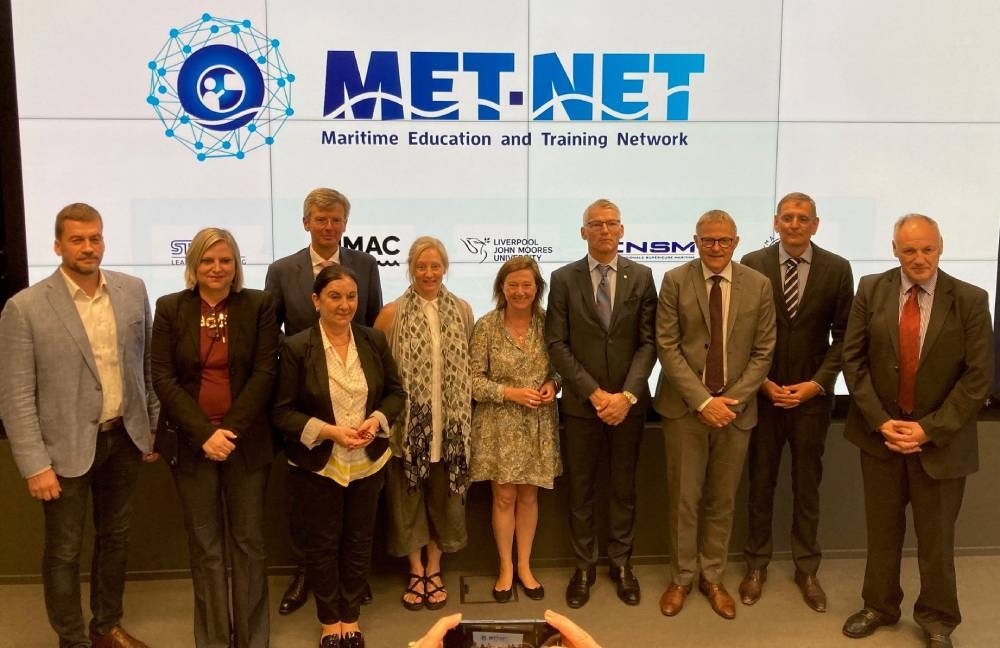 The SkillSea conference in Brussels including the signing of an agreement between nine leading European maritime education and training providers intended to promote cooperation and collaboration on seafarer training. The Maritime Education and Training Network (MET-NET) aims to improve awareness of shipping careers, foster best practices, share knowledge and resources, and to work together to encourage the take-up of new courses – including a set of educational packages produced during the project, addressing such areas as 'green', digital, leadership, and innovation skills. Founding MET-NET partners include the STC Group in Rotterdam, and, Liverpool John Moores University.
Seafarer training must keep pace
SkillSea has given insight into issues to be addressed in the forthcoming revisionof the STCW Convention, writes Nautilus head of professional and technical David Appleton
We were pleased to be one of the SkillSea project partners, representing seafarers in a programme to find ways to bring maritime training and education firmly into the 21st century. The research undertaken by the project clearly identified the shortcomings in the current system and the way that the scope of seafarer training is lagging far behind the reality of present-day shipboard operations.
It is vital that training is able to keep pace with developments such as the growing pressure for greener shipping, the introduction of new fuels and new propulsion systems, and the relentless and rapid introduction of new technologies. As well as developing a set of courses to tackle those gaps, SkillSea has given the maritime community a deep insight into the issues to be addressed in the forthcoming revision of the STCW Convention.
'High tech, high skills' is the core conclusion from the project and it is important to note that raising the underlying level of skills will also raise safety and efficiency, with many of the new and emerging fuels having some inherent challenges.
Retention of skills within the wider maritime sector is also an important outcome from the project, with SkillSea research showing the need for a sustainable flow of experience from sea to shore. The project has therefore sought to bring in upskilling as a key element of making the job more attractive and to enhance long-term career prospects.
---
Tags