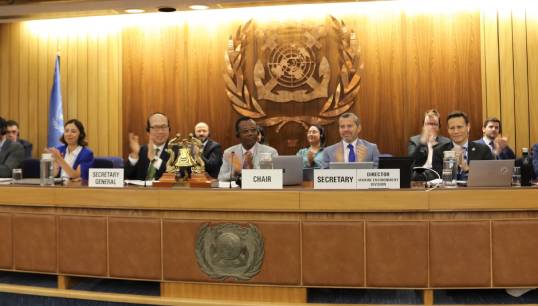 Nautilus was involved in the IMO conference that produced this year's historic international agreement on cutting emissions from shipping. David Appleton explains what was decided and what the implications are for seafarers
During a tense week of discussions in early July, the International Maritime Organization finally adopted a revised strategy for reducing greenhouse gas (GHG) emissions.
The IMO had been under extreme pressure to produce a strategy more closely aligned to the 2015 Paris Agreement goals after its previous targets were widely panned as unambitious. Those targets were set in 2018, when an initial strategy was agreed to reduce the global shipping industry's total emissions by 50% by 2050, using the 2008 figures as a baseline.
The slow pace of change at the IMO, which stems from the need to reach consensus among its 175 member states, has been a cause of considerable frustration for progressive member states and environmental organisations alike – and has led to the threat of regional regulation. This scenario would be an operational nightmare for shipowners, who would be forced to comply with a plethora of differing requirements around the world.
Changing attitudes, new targets
However, this July saw a seismic shift. The 80th session of the IMO Marine Environment Protection Committee (MEPC) adopted the 2023 IMO Strategy on Reduction of GHG Emissions from Ships, which commits IMO member states to a goal of net zero by or around 2050.
Additionally, interim targets were adopted – still with a baseline of 2008 emission levels – of a minimum 20% total reduction striving for 30% by 2030, and 70% striving for 80% by 2040. There were also targets agreed to reduce cargo work emissions by 40% and increase the use of zero or near zero emission technologies to a minimum of 5% of the energy used by international shipping by 2030.
There has been criticism from some organisations who feel that the measures adopted do not go far enough towards the Paris goal of keeping global temperature rises to below 1.5C, but the revised targets represent a massive increase in the shipping industry's ambition compared to 2018.
What needs to be done now?
The scale of the task ahead should not be underestimated. Converting an industry that is currently totally reliant on heavy fuel oil and responsible for 3% of global GHG emissions to a 'net zero' industry within the lifetime of the average general cargo ship will not be an easy feat. There is, after all, little point in agreeing to targets you have no hope of achieving.
For the IMO, attention will now turn to developing and finalising the measures necessary to deliver on the reduction targets which will include a goal based marine fuel standard aimed at reducing the GHG intensity of marine fuels and, an economic element comprising of a global GHG pricing mechanism.
For Nautilus and our international partners, we can now focus on ensuring that the needs of seafarers are fully taken into account in implementing the required changes.
A fair deal for those on the front line
Whilst the industry's strengthened level of ambition is obviously welcome, there are clear safety implications to adopting new technologies before the safety case has been effectively proven – or before seafarers have received the necessary training and upskilling required to work with new machinery and systems.
The recent Just Transition Task Force report Mapping a Maritime Just Transition has pointed to the fact that up to 750,000 seafarers will require additional training to handle alternative fuels and technologies by 2050. This will clearly be a herculean task, and a key constraint in implementing the necessary training programmes has been the lack of clarity around the decarbonisation trajectory of the maritime industry.
Thanks to the July 2023 IMO agreement, the uncertainty around the level of ambition has now been removed, but we still do not know how the new targets will be achieved. Which new fuels will prevail, for example, and will radical alternatives like wind power break into the mainstream?
A commitment to training and safety standards
As the industry grapples with these questions, one of the most positive outcomes of MEPC 80 from a seafarer perspective was the commitment to phasing out of GHG emissions in the context of a 'just and equitable transition'. This follows on from the decision approved at the Maritime Safety Committee in June to develop a 'safety regulatory framework to support the reduction of GHG emissions from ships using new technologies and alternative fuels'.
In practice, this means that the IMO will need to ensure that measures are put in place to ensure the safety of new fuels, and that necessary amendments are made to the global standards and training convention STCW. However, the industry cannot sit back and wait for regulatory change from the IMO. The targets have been set. It is now time for industry to ensure that seafarers are provided with the skills and training so they can safely deliver them.
What is 'net zero'?
Net zero refers to a state in which the greenhouse gases going into the atmosphere are balanced by removal out of the atmosphere. In the context of shipping, one way of achieving this balance could be by using plant-based biofuels, which would absorb carbon dioxide from the atmosphere while growing, even though they would emit CO2 when burnt.
Image: Getty Images/Marine biology researchers
can we blow away maritime's carbon crisis? See our book review of Tradewinds
---
Tags