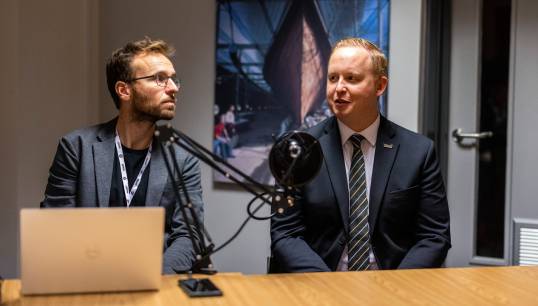 Nautilus has been closely involved with the work of the Maritime Just Transition Task Force, an unprecedented initiative to ensure seafarers are treated fairly during the technological transition to greener shipping. Rob Coston reports on progress as the Task Force enters the second phase of its work
It is a sad fact that 'sea blindness' among the public often leaves seafarers neglected or forgotten. While other industries transform themselves, in maritime it is usually up to trade unions to try and wring concessions from reluctant employers.
The Maritime Just Transition Task Force, however, is a rare case where the maritime industry is leading the way through collaboration.
Set up in 2021 during the COP26 climate conference in Glasgow, the Task Force is a joint initiative of the International Transport Workers' Federation (ITF), the International Chamber of Shipping, the United Nations Global Compact, the International Labour Organization and the International Maritime Organization – a unique combination of representatives from government, labour and industry that will hopefully serve as an example for other industries in how to ensure a fair and successful move to zero carbon.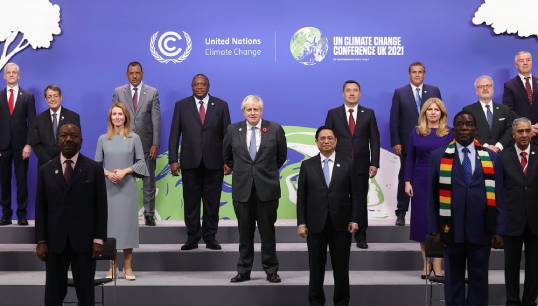 'It's encouraging that we have this as an industry,' says Nautilus head of international relations Danny McGowan. 'We don't see it in any other industry. The ITF will likely use this model in other areas outside maritime as an example of good practice.'
Phase one complete
Phase one of the Task Force's work was completed in 2022, and presented to Nautilus members at the UK Branch Conference in September by Mr McGowan and the ITF's Michal Rozworski. This stage involved the creation of a 10-point action plan. Nautilus International has been closely involved in creating this international plan for a Just Transition.
The Union is part of a select group of bodies consulted in the Global Industry Peer Learning Group, alongside Nautilus Federation affiliate the Seafarers' Union of Croatia, other ITF-affiliated unions, and industry representatives. While details are not necessarily negotiated within this group, all parties are able to discuss with each other and inform the Task Force about areas of concern that need to be addressed in the outputs of the project.
'It's in the Industry Peer Learning Group that we discussed the meat of the 10-point plan, and where we will continue to influence future phases,' says Mr McGowan.
'During phase one, we explained what we expect a Just Transition to look like, highlighting areas of focus or concern for our members from a Union perspective.
'Those concerns include ensuring that training does not take place during rest hours and that shipowners/employers pay for reskilling – and if it's not employers paying, then governments should. We have been clear that the burden of the transition should not fall on individual seafarers.'
Protecting jobs and conditions
Now the project has moved on to phase two, launched in May 2023. Future work is split into two streams:
Recruitment and retention during the transition
Seafarer training for decarbonisation
'We will be there to contribute to both via the Industry Peer Learning Group, because these are such important topics for our members and the future of work,' says Mr McGowan.
The second stream will be especially important for the future of maritime education worldwide. It will create frameworks and learning material that nautical colleges and training bodies will draw on in future, for seafarers and shore-based workers.
This will ensure standardisation, something that is essential for a global industry. Standardisation helps to ensure safety for seafarers and the public in the handling of new fuels and other new technologies – and it should also help protect the marine environment.
As well as pushing for appropriate training and safety standards, Nautilus is keen to ensure that the state of maritime education does not leave seafarers at the mercy of their employers.
'Nautilus is pushing for cross-industry standardised training in new technologies, not company-specific training,' says Mr McGowan. 'We don't want seafarers to be tied into working for one particular company as a result of transition-related training. That would negatively impact the labour market, salaries and pay and conditions, as seafarers wouldn't be able to exercise their freedom to seek alternative employment in different companies.'
Other considerations for Nautilus include:
help for seafarers in accessing the necessary training
continuous improvements in seafarer working conditions and pay
diversity and inclusion
social connectivity
hours of work and rest
ensuring that new technologies support seafarers and improve the long-hours culture onboard rather than allowing companies to cut crewing levels
ongoing social dialogue and collective bargaining with unions
'We are concerned with the "social" part of the environmental, social and governance principles which companies commonly sign up to, but which all too often is neglected,' says Mr McGowan. 'We often find that seafarer conditions and pay are threatened when new technologies are introduced, when actually the industry as a whole needs to be looking at making sure people want to come and work in maritime, and when they're here, that they want to stay.'
We have been clear that the burden of the transition should not fall on individual seafarers Nautilus head of international relations Danny McGowan
In the real world
Members might ask whether conversations between unions, industry and the UN will have any real effect on their working lives. How will information provided by Nautilus and decisions taken by the social partners affect the real world?
The answer is that, while the outputs of the group will not be binding, the industry is aware that it needs to decarbonise rapidly and is increasingly under pressure to do so.
The work of the Maritime Just Transition Task Force is bound to be influential because it is the only show in town – the only piece of work taking place on a global basis involving social partners and the UN. Though not binding, its work is internationally valued and will be adopted by organisations worldwide during the transition. Over the next year or so, during which phase two of the project will take place, Nautilus will continue pushing for outputs that take the needs of our members and all maritime professionals into account.
---
Tags