Community
Surplus funds from Plymouth Merchant Navy Monument donated to good causes amid quiet acts of remembrance around UK
13 November 2020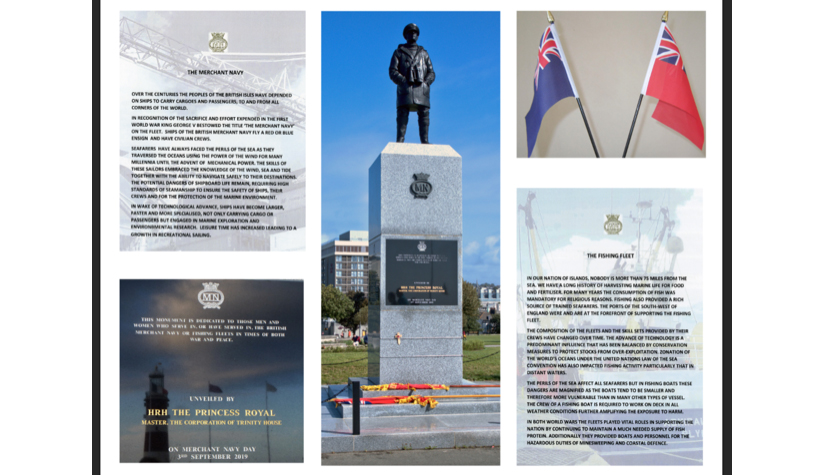 As reported by Nautilus in September 2019, Plymouth now has a site of remembrance worthy of the sacrifice made by Merchant Navy seafarers in wartime.
Sited on Plymouth Hoe alongside the monuments to the armed forces, the Merchant Navy Monument is the result of many years of campaigning and fundraising – which was so successful that the Plymouth Monument Committee found itself with a surplus when it disbanded this year.
'We'd like to thank all those who donated,' said committee member Chris Rankin, 'and we have been able, following the return of VAT, to give donations to various maritime charities, in compliance with the Charity Commission, to ensure a zero balance remained.
'One such recipient was Care Ashore (nominated by myself as a trustee). They were looking for sponsors to enable much needed renovation work to their respite rooms could take place. The decorating and new carpet has been done and agreement reached to name the first room sponsored by Plymouth MN Monument Committee the Plymouth Room. New curtains have been ordered and hopefully there will be enough money left to purchase some new furniture.'
Among the committee's major donors was Plymouth City Council, and to recognise this, the council has been presented with a montage of photographs relating to the construction and lighting of the Merchant Navy Monument. The same picture was given to Care Ashore to be put in the charity's refurbished room.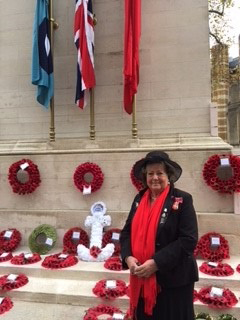 A white anchor at the Cenotaph
Another member of the Plymouth Monument Committee was Vivien Foster OBE, who is the president of the Merchant Navy Association. As an additional act of remembrance, she made a special solo visit to the Cenotaph in London on Armistice Day (11 November) to ensure that the white anchor of the Merchant Navy was laid on the monument.
She commented: 'Our Red Ensign has been on the Cenotaph for 100 years alongside our fighting forces, because the Merchant Navy has always been in support of our fighting forces in all theatres of war as well as keeping our nation fed.
'I have marched past the Cenotaph for 20 years – which was when we were first invited to do this – proudly carrying a white anchor, far more relevant to those whose only grave is the sea. And although the circumstances were so different this year, I placed the anchor under the Red Ensign in remembrance and thanks.'
Hull remembers
Pictured above is Nautilus member Keith Thompson MNM, who laid the Merchant Navy wreath on the Hull Cenotaph at this year's scaled-back remembrance service. After the service, Mr Thompson's local veterans' group presented a £500 cheque to the Hull Sea Cadets (TS Iron Duke) to help them continue their work during the pandemic.
---
Tags