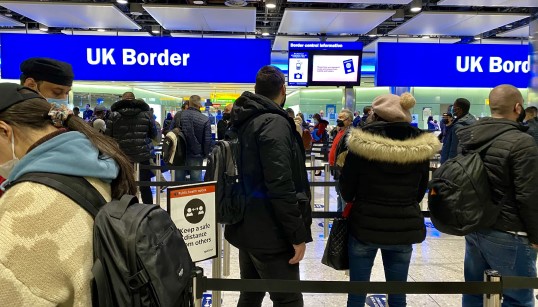 Nautilus International has been approached by two members who have received Fixed Penalty Notices when flying home to the UK for failing to present a negative Covid test to officials on arrival, despite being exempt from this requirement.
Both seafarers – one of whom returned via Manchester airport, the other via Gatwick – were carrying the recommended Nautilus exemption letter. They also had all their recommended documentation including a valid Seafarer's Identification Document (SID), and had completed their passenger locator forms correctly.
However, Border Force officials stated that they will receive Fixed Penalty Notices by post for failing to present a negative Covid test. The fine for a first offence under the regulations is £500.
In addition, one of the two members was forced to pay £210 upfront for two Covid tests. The officers detained the seafarer for over an hour. This caused further expense, as the seafarer then had to re-arrange their transport home.
'We encourage all members to carry the recommended documents, but these two cases highlight the fact that officials on the ground are not always aware of the exemptions that apply to seafarers,' Nautilus strategic organiser Rachel Lynch said.
The Fixed Penalty Notices contain details of how to appeal and who will issue the fines, yet they can take 28 days to arrive. Both seafarers will be out of the country at this time and will therefore struggle to address the problem with authorities.
'National and international authorities have clearly stated that seafarers are exempt from these requirements when travelling from a country not on the high-risk "red list" in the previous 10 days, due to the nature of their work,' Ms Lynch said.
Members should attempt to appeal any Fixed Penalty Notices once received through the post. They should refer to the exemptions on the UK government website as part of the appeal, and also include the Nautilus UK Border Force letter created by the Union to support their case.
Members are urged to contact their industrial official for further help and advice.
---
Tags