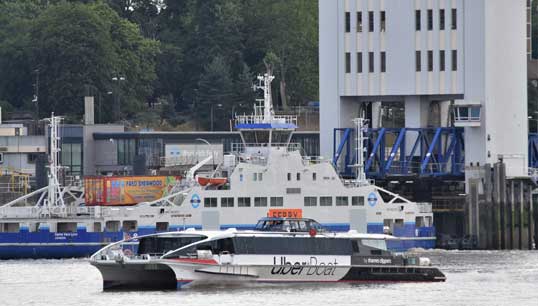 Nautilus has helped ensure that a fairer pay scheme is implemented for those self-isolating at Uber Boats by Thames Clippers (UBTC).
The company and/or UK Covid-19 Track and Trace can contact staff who may have been in contact with someone who has tested positive for Covid-19. National organiser Steve Doran said: 'Under such scenarios individuals contacted are supposed to self-isolate in line with UK Government guidance. Where this was occurring at UBTC the company was putting employees onto statutory sick pay (SSP), causing financial hardship for those involved.
'Nautilus stepped in and pressed the company to review this, stating that they should pay government-funded furlough – which represents 80% of pay; this is greater than SSP, meaning less financial hardship.'
Mr Doran said after meetings with the company that he was pleased to confirm they had reconsidered their position.
From 1 January 2021, UBTC will change how time off in these circumstances is recorded. Specifically, it will be recorded as furlough when the following conditions are met:
UBTC activate the requirement to self-isolate where an employee has worked in close proximity to a colleague in receipt of a positive test result; or,
An employee receives a positive test result (the employee will be required to get a test within 48 hours and the test must be positive for furlough to be applied from the first day of absence from work). Proof of test result is required for absence to be changed from sick to furlough
Mr Doran paid tribute to Nautilus lay reps for their support with the matter.
'We sincerely hope that we get through the latest lockdown situation to a better, safer place moving forward as the vaccines continue to be rolled out,' he said.
---
Tags