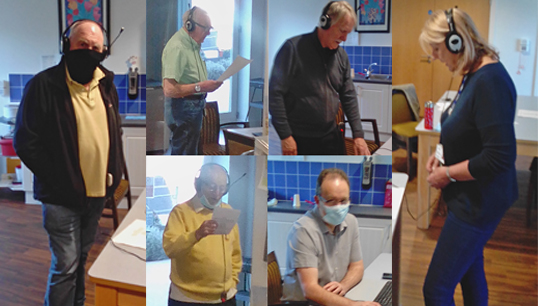 Retired seafarers and staff at Nautilus Mariners' Park have sailed through a successful recording of the Rod Stewart classic hit 'Sailing' ahead of the International Day of the Seafarer.
The recording was in aid of a virtual global choir fundraiser for a charity single record, an initiative from international legal and professional services firm Ince. The single is being released in collaboration with Royal Museums Greenwich and four maritime charities – Stella Maris, Sailors' Society, The Mission to Seafarers and The Seafarers' Charity – to help raise awareness of the critical role played by seafarers as key workers.
The record will also raise money for the charities to provide ongoing support, including access to vaccines, for those stranded at sea during the pandemic.
The maritime community is encouraged to contribute recordings for the #SingForSeafarers charity record, due for release on the international Day of the Seafarer (25 June).
The Mariners' Park residents who took part in the recording reflect the varied life of a seafarer.
Mike Feltham rose from a cadet to the rank of chief officer with the British India Steam Navigation Company. In 1961 he joined Denholm Ship Management as a second officer, before being promoted to chief officer and then master. He spent the last nine years of his seagoing career as master with a Chinese company, Ocean Tramping Co. of Hong Kong.
John McDavitt is a former engineer who spent 35 years at sea, including 25 years with Esso and a period working with Christian Salvesen in the Antarctic.
John Coyle served with the Royal Navy on HMS Lion, Ajax and Glamorgan. At one point after retirement he had the chance to drive The Queen on Merseyside's famous amphibian The Yellow Duck in the Royal Albert Dock.
Staff who took part included Roger Cliffe-Thompson, who has worked for Age UK Wirral at Mariners' Park since 2013 as the mens' health and social activities coordinator and Barbara Cook, head of health and activity at Age UK Wirral, who supports Roger in the work he does at Mariners' Park.
The residents were grateful also to Martyn Coleman, head of Nautilus IT, who helped organise the studio set up for the recording which had to keep to strict pandemic hygiene and social distancing restrictions.
---
Tags