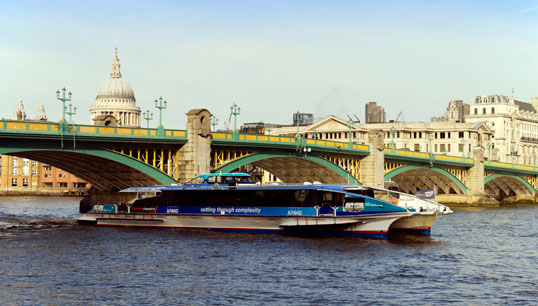 Nautilus officials and voluntary Partnership at Work (PAW) members at Thames Clippers have successfully secured two onboard positions through a job share proposal, and now seek further reductions to proposed redundancies.
Thames Clippers is seeking to cut 29 onboard jobs as part of cost cutting measures due to a drop in business from the coronavirus pandemic.
A 20% pay reduction would remain in place until January 2021 as indicated by the company at the beginning of July.
It also proposes to make further use of the government's Coronavirus Job Retention Scheme (CJRS).Thames Clippers took advantage of the government's furlough scheme and more recently extended it and introduced 'flexi-furlough' at the 80% capped levels.
Nautilus member PAW delegates and national organiser Steve Doran worked with the company to minimise redundancies. A job share proposal for Mates has saved one job.
'The reps and I have done all possible to mitigate job losses and will continue to do so,' Mr Doran said.
Liaison officers and PAW delegates play crucial volunteer roles for the Union in industrial bargaining. The difference is liaison officers are nominated and elected, and PAW delegates are either elected or volunteer for the role. Liaison officers can formally represent members at negotiations, disciplinary hearings and grievance hearings, whilst PAW delegates are mainly communicators of information from the employer and Union to members.
At the beginning of July Thames Clippers proposed a business restructure involving the following four categories:-
Extend the 20% pay reduction and hours to the end of 2020 for all salaried employees
Utilise the CJRS flexible furlough from 1 July by bringing salaried employees back to work on a part time basis. Additionally, furlough pay will no longer be topped up and therefore the £2,500 cap will be applied to furloughed positions
Retain employees on furlough under the CJRS and bring more people back by the time the CJRS closes on 31 October 2020. Additionally, the company plans to move salaried staff still on furlough to unpaid leave from 1 November to 31 December 2020, paying a retention 'bonus' equating to 25% of normal salary
Up to 29 redundancies were proposed based on predicted fall in business operations.
The company confirmed existing Thames Clipper crew on the commuter fleet will be working on newly re-branded Uber Boats, helping to get the Thames River passenger services back up and running in London.
At the launch of the Uber Boat service, Mr Doran said: 'Hopefully the Uber partnership will help Thames Clippers generate more footfall, which in turn will help generate income and protect jobs.'
---
Tags