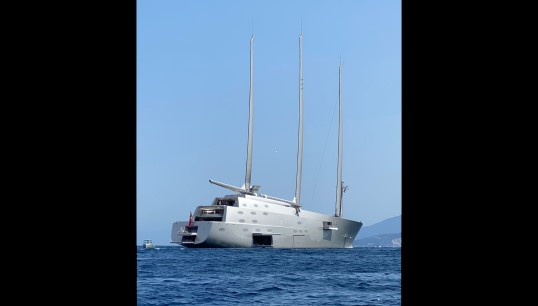 Nautilus International continues to monitor the situation regarding Russian superyachts following the outbreak of the war in Ukraine, and is advising and assisting members.
There have been several developments, although Nautilus expects the scale of the situation faced by yacht professionals to become clearer from the end of this month, when most crew are due to receive their pay, as this may be complicated by disruption from the war and sanctions against individual Russians.
'Our advice to members still working onboard Russian yachts is that they should get their documents in order as soon as possible.' says Nautilus yacht organiser Laura Molineux. 'That includes a copy of their SEA. They should work out how much leave they've accrued, and also get copies of all expenses they are owed and receipts, as if there are any issues with payment the Union will need as much evidence and documentation as possible. After you have left the yacht, it might be too late.
'Some claims have time limits, so if you are not paid it is essential that you get in touch with us as soon as possible.'
Nautilus is aware of more than half a dozen crewing agencies that have also stopped contracting for Russian yachts, some due to worries about whether they would be breaking sanctions regulations by providing crew as a service to a Russian owner.
However, in at least one case, a crewing agency has approached the UK government's Office of Financial Sanctions Implementation to apply for a licence to continue paying crew despite financial sanctions.
Some claims have time limits, so if you are not paid it is essential that you get in touch with us as soon as possible.
If granted, this would allow funds to be released so that the agency can keep a skeleton crew onboard, ensuring that the yacht is maintained to prevent issues such as pollution.
The Union has received reports of crewing agencies that are ready to continue paying crew on behalf of Russian owners. However, it is unknown whether these funds were received before the conflict and sanctions began, and therefore how long the agency will be able to continue paying wages.
Nautilus has also confirmed instances of organisations that are attempting to cut ties with Russian yachts.
In at least two cases, involving Malta and the Isle of Man, a flag state has deregistered Russian yachts. This raises implications regarding the duty of care a flag state is required to have for vessels.
Members with questions or concerns should get in touch with the Union via yachts@nautilusint.org. In emergencies please use the Nautilus 24/7 helpline.
Non-members are reminded that it is important to join Nautilus International before experiencing problems such as unpaid wages, to ensure that you are entitled to the Union's legal support.
---
Tags