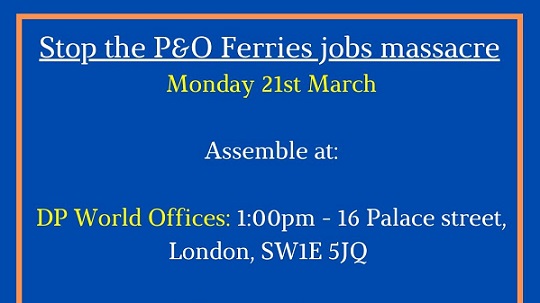 Nautilus International is continuing to mobilise against the illegal sacking of 800 workers by P&O Ferries with protest action planned on Monday March 21.
Members and supporters can join the fight against fire and rehire policies by joining protests, signing the petition, and writing to your MP.
The Union believes the decision by P&O Ferries to lay off 800 workers is a despicable attack on the company's own loyal seafarers, and represents a threat to every UK maritime professional. This action threatens to trigger a race to the bottom that damages pay and conditions for all.
Protestors are gathering at 13:00 hrs outside DP World offices 16 Palace St, London SW1E 5JQ.
Before marching on Parliamant at 14:30 hrs Old Palace Yard.
Friday saw large protests in Dover, Liverpool, Hull, Larne and London.
Nautilus International general secretary Mark Dickinson spoke at both the Dover and London protests calling the shameful move by P&O a disgracful and illegal sacking which would be fought at the highest levels in court.
Nautilus members have received messages of solidarity from Unions across the country and the globe.
---
Tags