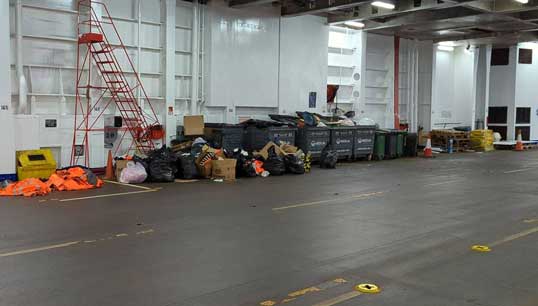 Some of the personal belongings of P&O Ferries crew who were summarily dismissed last week have been found lying next to a skip for disposal.
Nautilus International received this information, as well as a photograph, from somebody onboard one of the P&O Ferries vessels.
The image appeared in the media and was mentioned by MPs during the appearance of the company's CEO, Peter Hebblethwaite, in front of the Transport Select Committee yesterday. The MPs expressed their disbelief that the crew were still being treated with such callous disregard, with former maritime minister Nusrat Ghani saying that she had no confidence in the company's assurances that agency staff would be treated with respect after P&O Ferries had shown such contempt for its seafarers.
Mr Hebblethwaite replied that a contractor had been hired to return seafarers' personal effects.
The sacked seaferers were informed in a meeting on Thursday 17 March that their employment was terminated with immediate effect. The workers – some of whom had worked for the company for decades – were then given just two hours to retrieve everything they owned from onboard the ferries, where they spend about half of their time and which are therefore almost a second home to them.
While retrieving their effects they were escorted by handcuff-trained security teams, and they were then given no choice but to leave the vessel, otherwise they would not be handed the packs containing information on their redundancies.
---
Tags