Industrial
Union for safety inspectors joins Nautilus International in P&O Ferries campaign
25 March 2022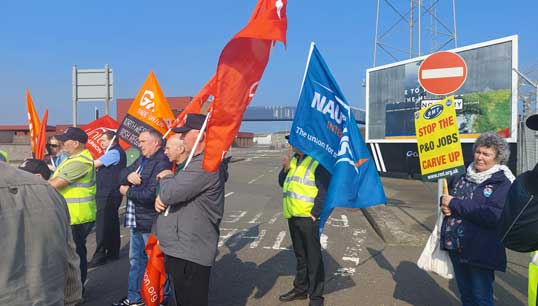 Prospect, the trade union that represents surveyors working at the Maritime and Coastguard Agency (MCA), has joined with Nautilus International in calling for the MCA to ward off potential disaster by performing rigorous inspections before P&O Ferries vessels are permitted to sail.
In a safety critical industry such as shipping, the importance of a competent, well trained, experienced crew cannot be overstated. This is even more the case in a company such as P&O Ferries where – in addition to the risks that are present in all shipping operations – there exists the additional pressures inherent in operating vessels that carry up to 2,000 passengers to extremely tight schedules, with rapid turnarounds, in the busiest shipping lanes in the world.
The consequences can be fatal when commercial pressure takes precedence over safety concerns in the ferry sector. In March, union representatives attended a ceremony to mark the 35th anniversary of the 1987 Herald of Free Enterprise Disaster, where poor safety procedures resulted in the deaths of 193 passengers and crew. This led to a raft of safety requirements to ensure that such a tragedy never occurs again.
P&O Ferries is proposing to bring its vessels back into service in the coming week. Prospect and Nautilus International have serious doubts as to how a company that has replaced its entire crew – with no handover from experienced maritime professionals – can demonstrate compliance with the safety requirements put in place after the Herald of Free Enterprise disaster.
Prospect general secretary Mike Clancy said:
'MCA surveyors, many of them members of our union, have a responsibility to ensure that P&O Ferries lives up to its responsibilities under the STCW Convention and International Management Code for the Safe Management of Ships (ISM Code). They must establish that any new personnel are qualified, familiarised with their duties, and are prepared to act during emergencies.
'We ask our members and all MCA surveyors to go over these ships from top to bottom and ensure that every safety procedure is observed. If the agency crew hired by P&O Ferries – from a company set up just a few weeks ago – are not ready to operate the vessels safely, then they must not allow them to operate. The safety of thousands of passengers depends on it.'
Nautilus general secretary Mark Dickinson said:
'The MCA has confirmed that all eight affected ships will undergo a full Port State Control inspection focusing on operational drills and ensuring that crew have received appropriate training and familiarisation. This must be a full and proper inspection, and if there is any doubt whatsoever as to the suitability of the crew to safely carry out their duties, then the vessels must not be allowed to sail.
'We are also appalled at reports that the company are planning to implement tours of up to eight weeks in length. This is not a safe working arrangement, and there is a plethora of evidence available which demonstrates the detrimental effect that seafarer fatigue has on safety. P&O Ferries has itself recognised this in the past.
'The proposed working patterns, combined with the decision to replace experienced crews with overseas seafarers recruited by an agency registered in Malta only a month ago, clearly represents a change in the operations of the vessel, necessitating a new proposal for a safe manning document.
'The Flag States of the affected vessels – Cyprus, Bermuda and the Bahamas – should immediately withdraw the vessels' safe manning documents while they await revised proposals from the company based on their proposed operating patterns.'
---
Tags